Next content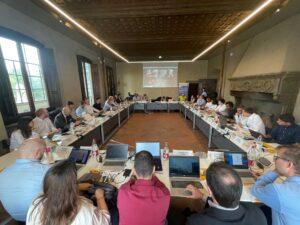 As the EU Supervisory Digital Academy (EU-SDFA) readies for its second year, the Florence School of Banking and Finance is pleased to highlight the Academy's achievements in its inaugural year. Together with the European...
Last week, the Florence School of Banking and Finance opened its doors to the EU Supervisory Digital Finance Academy (EU-SDFA) for the start of its second cycle of training. The first Foundational Training Week brought together 34 supervisors from 28 national competent authorities and national central banks for a week of training and networking. We will host five more training weeks in Autumn 2023.
The training programme provided a comprehensive analysis of how current technological trends are shaping the financial market, offering a comparative perspective on recent developments across different regions (EU, UK/USA, and Asia).
Participants had the unique opportunity to delve deeply into various key topics, including Big Data, Artificial Intelligence (AI) with a special emphasis on Machine Learning (ML), and the regulatory aspects of AI. Additionally, the programme addressed the challenges and opportunities associated with digitalisation and consumer protection, as well as the critical area of cybersecurity.
Throughout the training, participants actively engaged with one another, putting their knowledge to the test through group activities that revolved around technology-driven innovation in finance and evolving business models. They also explored the evolving cyber risk landscape specific to the financial sector.
The programme also featured two pivotal sessions, where insights were shared by both European and non-European National Competent Authorities (NCAs), fostering a valuable exchange of best practices and knowledge among participants.
By fostering a global community of regulators and supervisors, the EU-SDFA is actively contributing to a more interconnected and resilient financial ecosystem. Cooperation and engagement serve as essential pillars in addressing the intricacies of the digital finance landscape.
What is the foundational training week?
The foundational training week – the cornerstone of the Academy – aims to enhance the supervisory convergence across the internal market while supporting the transition toward a competitive, digital EU financial sector.
It is composed of three building blocks that cover technological advances and the development of new business models, the most recent regulatory response at the EU level, and finally offers a set of practical skills for the supervision of digital finance in Europe by means of case studies and other practical exercises.
The programme is designed by the Florence School of Banking and Finance, together with the European Commission DG REFOM and the three European National Competent Authorities (European Banking Authority, European Securities and Markets Authority, and European Insurance and Occupational Pensions Authority).
Interested in learning more about the EU-SDFA?
Visit eusdfa.eui.eu and follow the Academy on X and LinkedIn.