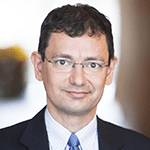 Nicolas Véron
Biography
Nicolas Véron cofounded Bruegel in Brussels in 2002-05, joined the Peterson Institute for International Economics in Washington DC in 2009, and is currently employed on equal terms by both organizations as a Senior Fellow. His research is primarily about financial systems and financial services policies, with a main geographical focus on Europe.
A graduate of France's Ecole Polytechnique and Ecole des Mines, his earlier experience includes senior positions in the French government and private sector in the 1990s and early 2000s. He is also an independent board member of the global derivatives trade repository arm of DTCC, a financial infrastructure company that operates on a non-profit basis.
In September 2012, Bloomberg Markets included Véron in its yearly global "50 Most Influential" list with reference to his early advocacy of European banking union.