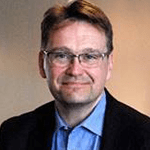 Jukka Vesala
Biography
Jukka Vesala is Head of Group Credit Risk Control in Nordea. He holds a doctoral degree in economics and has published research articles in refereed economic journals.
Before joining Nordea he had a position of Director General (DG3) and manager of Comprehensive Assessments in the ECB Banking Supervision, contributing to the start of the SSM centralised supervision. Before that he was Deputy Director General of the Finnish Financial Supervision Authority in charge of the prudential supervision of banks and insurance firms.
In the early part of his career, he worked in the ECB and Bank of Finland. He has also served for instance in the EBA Management Board and the EIB Audit Committee.
He is a keen reader of historical novels and enjoys very much all kinds of skiing.