Next content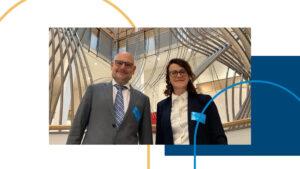 On 25 April, Director of Florence School of Banking and Finance (FBF) Thorsten Beck together with Assistant Professor at Dublin City University (DCU) Christy Ann Petit, presented their report on recent trends in UK...
On 23 and 24 March 2023, the Florence School of Banking and Finance (FBF) held its annual conference at the European University Institute (EUI) premises in Florence, Italy.
Organised in cooperation with Banca d'Italia, the policy conference gathered different actors from academia, the private sector, representatives from the European Institutions and the European Supervisory Authorities, central banks and consulting firms that engaged in two days of intense discussions on many focal points related to  ESG and how financial sector can ease the transition to a sustainable economy.
During the conference, it was stressed that transparency requirements on climate-related risks seek to encourage institutions to strengthen their management of these risks and promote awareness of their role in the transition to an environmentally sustainable economy. However, achieving these objectives can nevertheless be hampered by lack of quality data. Some of the discussions focused on the challenges that the diversity of existent ESG reporting standards, ratings and indicators bring to supervisors, regulators and supervised institutions.