Second edition: 11 January – 7 February 2021
Registration closed
This online course by the Florence School of Banking and Finance has the objective to provide participants with a comprehensive knowledge of securitisation, looking at both the regulatory and practical aspects.

Why an Online Academy?

In the Online Academy format, you will be guided in the topics from a group of leading academic and policy experts, who will convey their expertise in a series of audio-visual material in multiple formats.

You will approach the academy content through a series of self-paced video lectures and live online classes, which will offer multiple occasions for 'hands-on' activities, including quizzes, exercises in breakout rooms, forum interactions with the other participants, as well as a simulation exercise on NPL securitisation.

The Academy will require 20 hours to be completed.

Learning objectives

After having completed this online course, participants will be able to:

Identify the structures, types and main actors of securitisation
Analyse the potential risks that could arise in securitisation
Review the international regulatory framework on securitisation by defining the main actors, practices and challenges
Illustrate the main components of the European Union regulatory framework of securitisation
Compare the role and functions of supervisors in the EU and in the US
Address the rules on capital relief for originator banks and insurance companies and address the upcoming regulatory evolutions
Discuss the capital requirements for banks and insurers investing in securitisation positions
Review the practical experiences of SMEs with securitisation
Analyse the current trends with securitisation in NPLs and apply the theory on a practical scenario
Theorise the role of securitisation in fostering green finance

Course Director

Bart Joosen (VU University Amsterdam and Recofise)
Bart P.M. Joosen is trained as civil law lawyer at Tilburg University, the Netherlands. He obtained his (equivalent to) LL.M degree in 1987. After completion of his academic study he was appointed as lecturer in the law faculty of Tilburg University in 1987. He successfully defended his dissertation on "Transfer of undertakings in bankruptcy" at Tilburg University and was promoted to doctor in law science (PhD) in 1998. He works since 1992 in private practice particularly for financial market clients. His main areas of expertise are in the field of financial services supervision with a focus on micro-prudential supervision of banks (including in-depth Basel II/Basel III and Solvency II knowledge), insurance companies and investment firms and payment services. Besides working in private practice, he is an extraordinary professor Financial Supervision Law at the VU University in Amsterdam.

Course Instructors

Anna Bak (Association for Financial Markets in Europe- AFME)
Anna Bak is an Associate Director in the Securitisation Division at The Association for Financial Markets in Europe ("AFME") where she is responsible for developing positions on a wide variety of securitisation-related topics and representing those positions to the European institutions and international organisations, as well as a wide range of national authorities. Anna joined AFME in February 2014 to work in the Securitisation Division. She is involved in negotiating industry standpoints on many critical regulatory initiatives, including calibration of the Basel capital and liquidity rules, Solvency 2 rules, derivatives and transparency rules as well as establishing "simple transparent and standardised securitisation" under the European securitisation framework. Earlier in her career, Anna was a transaction lawyer in Amsterdam. Previously, she worked at TMF Group and later at Citco where she spent six years working on variety of ABS transactions, including RMBS, SME and auto-loans structures. Anna holds an LL.M. degree from the University of Utrecht (the Netherlands) with a specialisation in European Law and a Master of Laws degree from the University of Lodz (Poland).

Simon Broxham (Duver Consulting)
Simon Broxham has over 25 years' experience in financial markets as a trader, structurer and managing director specialising in credit, securitisation and interest rate markets. For well over a decade he led the European credit business for Bank of Montreal in London, managing a multi-billion dollar complex credit derivative and structured credit portfolio during and after the Global Financial Crisis. After successfully winding down this large portfolio Simon established and managed for a number of years a client-focussed credit trading business consisting mainly of European financials and corporate bonds. built a client focussed credit business. Simon is the Director of Duver Consulting advising banks, asset managers and fintech companies on regulatory and market change projects and offering training in aspects of wholesale markets. Simon holds MA and MEng degrees in Engineering from the University of Cambridge.

Patrizia Canziani (Structured Finance Professional)
Patrizia Canziani is a finance professional with more than twenty years' experience in capital markets, credit and structured finance at JPMorgan, Deutsche Bank, Merrill Lynch, Nomura and MUFG. Mrs. Canziani is Non-Executive Director and member of the Risk and related parties committee for listed company Sogefi, a world leader in design and manufacturing of car components. Experienced in sustainability, she holds a certificate in Sustainable Finance from Oxford University, Smith School of Enterprise and the Environment. She is also a financial crime risk consultant and bank monitor. Mrs. Canziani holds a a PhD in Economics from MIT and 14 internationally refereed publications in labour-macroeconomics, pension sustainability and fiscal rules.

Carlos Echave (European Banking Authority)
Carlos Echave is a policy officer in the securitisation team of the EBA's Banking Markets, Innovations and Consumers (BMIC) unit. A lawyer by training, he graduated at the law school of the Universidad de Navarra in 1999. He went on to work in private practice for several years where he advised clients on numerous capital markets transactions. He joined the UK's Financial Services Authority in 2008, later transferred to the Bank of England and subsequently worked as legal officer and policy expert at the European Commission and at the Council of the EU. He joined the EBA in February of 2019 and has since then participated in various regulatory initiatives of the Authority on covered bonds and securitisations, namely the recently published Report on Significant Risk Transfer (SRT) and the 2019 EBA Opinion on the Regulatory Treatment of Non-Performing Exposure Securitisations.

Jean-Jacques van Helten (Florence School of Banking and Finance, European University Institute)
Jean-Jacques van Helten is a Visiting Fellow at Robert Schuman Centre for Advanced Studies & the Florence School of Banking and Finance, part of the European University Institute. He is formerly a Managing Director & Chief Risk Officer, EMEA for the Bank of Montreal (BMO) Financial Group and more recently Non-executive member of the Board of BMO Europe. He has worked in a range of senior executive risk and capital markets business roles in major investment banks in Europe, Australia, Asia and the UK where he has been responsible for market, liquidity & operational risks and credit risk analytics. Jean Jacques has also directed Bank recovery and resolution planning, enterprise risk management as well as the implementation of ICAAP and ILAAP and liquidity risk management process and procedures including liquidity stress testing. Jean Jacques completed his undergraduate and Master degrees along with his PhD in economics/economic history at the University of London, studied at the Goethe Universität, Frankfurt and Freie Universität, Berlin and has held academic research positions at La Trobe University and the University of London.

Mira Lamriben (European Banking Authority)
Mira Lamriben joined the EBA in January 2014 where she held positions as an economist in Impact Analysis and as a policy expert in Own Funds regulation. She is now part of the Capital Market Union team where she is involved in the implementation of the Securitisation Regulation (including EBA work on Significant Risk Transfer and STS securitisations) and in the monitoring of the development of Green bonds. Before joining the EBA, Mira worked as an economist at the Banque de France in the area of banking studies and risk analysis. She delivered various analysis of the development of the EU and the French banking sector and had a specific focus on liquidity risk. Mira holds a Master in Public Affairs and Economics from the Paris Institute of Political Studies (Science Po) and a Master of Laws from the University of Paris (La Sorbonne).

Guest Contributors

Adrien Amzallag (European Securities and Markets Authority)
Adrien Amzallag works on risk analysis and structured finance policy topics at the European Securities and Markets Authority. Before joining ESMA, Adrien worked for many years at the European Central Bank on structured finance, risk management, and financial stability activities. Adrien holds degrees in Economics from the London School of Economics and the University of Edinburgh.

Javier Antón San Pablo (Santander Consumer Finance)


Marcel Haag (European Commission DG FISMA)
Marcel Haag is Director for horizontal policies at the European Commission's Directorate-General for Financial Stability, Financial Services and Capital Markets Union. He has worked in different Commission services, including prior to his present assignment, as a Director for policy coordination at the Secretariat General of the Commission. Mr Haag is a lawyer and qualified as a judge in Germany.

Giovanni Inglisa (European Investment Fund)
Giovanni is an investment manager at the European Investment Fund, responsible for origination, structuring and execution of funding and capital relief securitisations primarily in Italy and Greece, amongst other countries. Prior to that he worked as a credit analyst in the Structured Finance practice of Standard & Poor's in Milan, covering ABS, RMBS, Covered Bonds, and Trade Receivables. Previously he was senior consultant at Ernst & Young, in the Financial Services team, mainly focusing on derivatives pricing. Giovanni holds a Master cum laude in Economic Policy from University of Pavia.

Eduardo Javier Moral Prieto (European Securities and Markets Authority)
Eduardo has been working at the European Securities and Markets Authority (ESMA) on topics related to credit rating agencies (CRAs), corporate reporting and securitisation since 2013. Eduardo is currently coordinating the CRA policy and securitisation team which is tasked, among others, with delivering ESMA's mandates under the Securitisation Regulation including the elaboration of various technical standards (e.g. on disclosure, STS notifications and cooperation among competent authorities) as well as their practical implementation and its coordination among national competent authorities. Previously, Eduardo worked at European Commission – DG FISMA, CRA and Audit Unit— where he participated in the development of the CRA3 and Audit Regulation. Eduardo is a Spanish national, and began his career as a supervisor in the Spanish oversight authority for auditors (ICAC) and for insurance entities and pensions funds (DGSFP).

FBF Team

Vasiliki Yiatrou - Teaching Associate
Vasiliki Yiatrou is a Phd researcher at the European University Institute. Her research focuses on the measures tackling non-performing loans (NPLs). She explores the way the regulatory response to NPLs, which remains largely disconnected from private law, affects, and is affected by the latter. Vasiliki is a qualified legal practitioner. Between 2012 and 2019, she worked as a litigation lawyer in Cyprus, specialising in financial and consumer law. Vasiliki holds an LLB (first class) from the University of Southampton and an LLM (with distinction) from King's College of London.

Christy Petit – Course advisor
Christy Ann Petit is a Research Associate at the Florence School of Banking and Finance, part of the Robert Schuman Centre at the European University Institute (EUI). Christy recently defended her Ph.D. thesis at the EUI Law Department on 'An integrated system for banking supervision in the Banking Union', and previously graduated from the Ecole normale supérieure in law, economics, and management in France (2014), and, in European Law from the College of Europe (2015). During her postgraduate studies, she was an intern at the European Central Bank (Single Supervisory Mechanism) and at the Court of Justice of the European Union (General Court). Her research interests cover European prudential supervision and regulation, monetary policy and central banking in comparative perspectives, and the law of the Economic and Monetary Union. Her latest publications analyse ECB's accountability and independence (Maastricht Journal of Comparative and European Law, 2019) and the SSM and ECB decision-making governance (Edward Elgar, 2019).

Pierre Schlosser – Course advisor
Pierre Schlosser is the Scientific Coordinator of the Florence School of Banking and Finance, an executive education and policy debate programme for financial stability professionals which forms part of the Robert Schuman Centre at the European University Institute. Pierre holds a Ph.D in political and social sciences (European University Institute, Florence, 2016), a postgraduate master degree in EU economic studies (College of Europe, Bruges, 2008) and a master's degree in economic governance (Sciences Po Paris, 2007). His main research interests encompass fiscal surveillance, financial stability and banking regulation, supervision and resolution. Previously, Pierre worked for 5 years for EURELECTRIC, the Brussels-based European energy industry association. Prior to that, he worked as a stagiaire in the European Commission's DG ECFIN. He is the author of Europe's New Fiscal Union (Palgrave Macmillan, 2019).

Jan Trevisan – Course designer
Jan Trevisan is the Online Training Officer at the Florence School of Banking and Finance, a platform for banking regulation and supervision in the European Union, part of the Robert Schuman Centre for Advanced Studies at the European University Institute. Previous work positions include Communications Officer at the EUI, where he managed the outreach and organisation of numerous high-profile institutional and academic events, and junior researcher at the Fondazione ENI Enrico Mattei's International Center for Climate Governance and the Euro-Mediterranean Center on Climate Change, where he led an online dissemination initiative. Jan holds a MA in International Relations from Ca'Foscari University of Venice, a postgraduate master in Diplomacy and International Relations from the University of Florence, and a certificate in Instructional Design from the University of California (Irvine).

Target audience

Held at introductory/intermediate level the course has been designed for public and private sector professionals (both at entry and mid-career levels). Organisations trained in the previous edition of the course and other FBF online courses include:

Finance Ministries
Banking Regulators and Supervisors
Financial Regulators Supervisors
Central Banks
Development and Multilateral Banks
National, European and international institutions
Banks
Law Firms
Investment funds
Consultancies
Insurance companies
Research centres and universities

This course is open to participants from all over the world.

Technical Pre-requisites

To join the live classes you will need to have the Zoom software installed on your computer and a webcam/microphone.

Structure

The course is structured in seven modules:

Module 0: Introduction to the course
Module 1: Securitisation as financial engineering: logic, nuts and bolts
Module 2: Evaluation of Risks and the Crisis
Module 3: Regulatory framework for regulation and supervision of securitisation
Module 4: Prudential regulation of securitisation transactions
Module 5: Dealing with securitisation products on the market
Module 6: Securitisation of NPLs
Module 7: Exercise on NPLs
Module 8: Green Securitisation

Manadatory activities

To receive the certificate of succesfull completion, course participants will have to complete a set of mandatory activities, as described here.

The estimated time required to complete all activities in the course is approximately 20 hours (depending on individual prior knowledge).

Week 1 - 5 hours (modules 0-2)

2 forum questions (modules 1-2)
1 exercise (module 2)
Participation in the first live class

Week 2 - 6 hours (modules 3-4)

1 graded quiz (module 3)
1 graded forum question (module 3)
1 exercise (module 4)
Participation in the second live class

Week 3 - 6 hours (modules 5-6-7)

1 graded quiz (module 6)
1 graded forum question (module 5)
1 exercise (module 7)
Participation in the third live class

Week 4 - 3 hours (module 8)

1 graded quiz (module 8)
Participation in the fourth live class

Course agenda

The course is self-paced. Participants will have access to all contents and material from the first day. The online platform is open 24/7.

11 January


Opening of the Academy
Access to modules 0-1-2
Live class (kickoff)

11 January - 07 February
Self-paced progression throughout lectures and homework exercises (total time approx.required: 12 hours)

15 January - 05 February
Live online sessions (total time approx.equired: 8 hours)

15/01 First live class: Basics + example of a transaction
22/01 Second live class: Regulation
29 /01 Third live class: Market Practice (tbc)
05/02 Fourth live class: Green Securitisation

07 February


Deadline to complete all mandatory activities
Closing of the Academy

Fees

The Academy will take place from 11 January to 7 February 2021.

Registration deadline: 21 December 2020

Fees

Participants from the private sector: € 1200
Participants from the public sector: € 1100
Participants from academic organisations: € 850

FEE WAIVERS

A few fee waivers are available to outstanding candidates applying from, and resident in, low-income and lower-middle-income economies (as set by the World Bank) in the Americas, Africa and Asia.
The deadline for applying for a fee waiver is January 6th, 2021.
To apply for a scholarships, send your CV and a cover letter to the course secretariat at fbf@eui.eu.

Cancellation Policy for online courses/academies:

Registered participants can cancel their participation and ask for a refund until three weeks (21 December) before the start of the course, by sending an email to the FBF secretariat. Past that date, refund requests will no longer be accepted by the Secretariat (unless for compelling and motivated reasons).
In case a course is cancelled, registered participants can request a total refund or request a voucher to attend another FBF course.
In case a course is postponed to another date, registered participants have the following three options: request a voucher to attend another FBF course, transfer their registration to a colleague or request a refund.

Frequently asked questions

When will classes take place?
Anytime! The platform is open 24 hours per day, 7 days per week. You can access the material and progress in the course at your own convenience. Apart from the online seminars set in the course agenda, there are no activities with fixed times.

Do I need to participate in the live classes?
Participation in live classes is mandatory. In case you are unable to attend a live class, inform the course facilitator - you will have the chance to review the session at your own convenience.

What if I do miss a deadline?
If you fail to complete a mandatory activity before a deadline, you will receive a 0% grade on that activity. Extensions can be negotiated, but only in case of severe reasons, which need to be notified before the expiration of the deadline.

Is there a minimum grade required?
The quizzes and the practical exercise are graded (from 0-100%), while individual forums are graded either 0% (no response) or 100% (response submitted). Only participants who, at the time of the deadline for completing mandatory material, will have a combined grade of 80% or above will receive a course completion certificate.

What if I do not reach 80% in all graded material?
Participants who fail to reach a final grade of at least 80% will not qualify a course completion certificate. A certificate of participation will be issued instead.

Do I need any particular hardware or software to join the course?
No. The FBF e-learning platform is accessible via a simple web browser. You will just be asked to install a small plugin for the live classes (instructions will be provided). You will however need to install Zoom to access the live classes.

Does this course qualify for professional development credits?
No. This course does not qualify for any professional development credit scheme.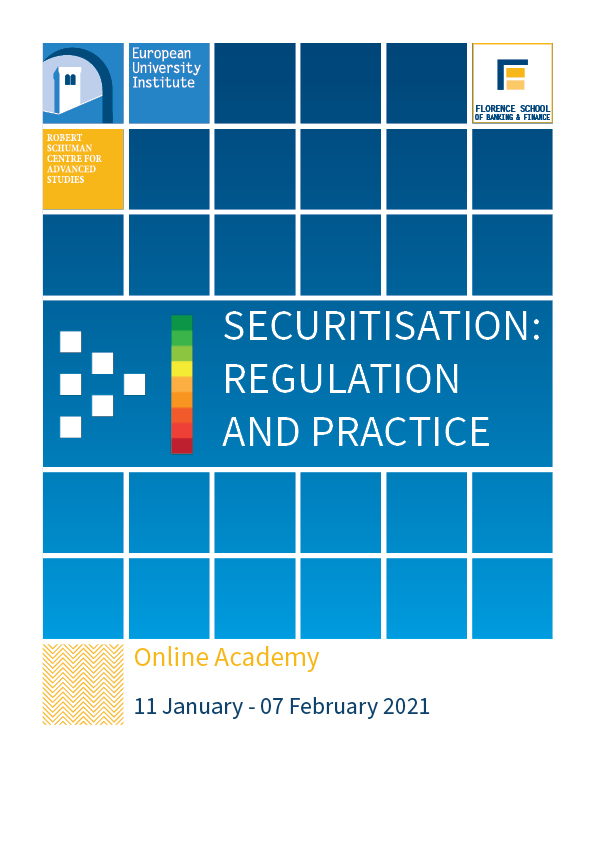 Securitisation: Regulation and Practice brochure