Second edition: 11 January – 7 February 2021
Registration deadline: 21 December 2020
This online course by the Florence School of Banking and Finance has the objective to provide participants with a comprehensive knowledge of securitisation, looking at both the regulatory and practical aspects.

Why an Online Academy?

In the Online Academy format, you will be guided in the topics from a group of leading academic and policy experts, who will convey their expertise in a series of audio-visual material in multiple formats.

You will approach the academy content through a series of self-paced video lectures and live online classes, which will offer multiple occasions for 'hands-on' activities, including quizzes, exercises in breakout rooms, forum interactions with the other participants, as well as a simulation exercise on NPL securitisation.

The Academy will require 20 hours to be completed.

Learning objectives

After having completed this online course, participants will be able to:

Identify the structures, types and main actors of securitisation
Analyse the potential risks that could arise in securitisation
Review the international regulatory framework on securitisation by defining the main actors, practices and challenges
Illustrate the main components of the European Union regulatory framework of securitisation
Compare the role and functions of supervisors in the EU and in the US
Address the rules on capital relief for originator banks and insurance companies and address the upcoming regulatory evolutions
Discuss the capital requirements for banks and insurers investing in securitisation positions
Review the practical experiences of SMEs with securitisation
Analyse the current trends with securitisation in NPLs and apply the theory on a practical scenario
Theorise the role of securitisation in fostering green finance

Course Director

Bart Joosen (VU University Amsterdam and Recofise)
Bart P.M. Joosen is trained as civil law lawyer at Tilburg University, the Netherlands. He obtained his (equivalent to) LL.M degree in 1987. After completion of his academic study he was appointed as lecturer in the law faculty of Tilburg University in 1987. He successfully defended his dissertation on "Transfer of undertakings in bankruptcy" at Tilburg University and was promoted to doctor in law science (PhD) in 1998. He works since 1992 in private practice particularly for financial market clients. His main areas of expertise are in the field of financial services supervision with a focus on micro-prudential supervision of banks (including in-depth Basel II/Basel III and Solvency II knowledge), insurance companies and investment firms and payment services. Besides working in private practice, he is an extraordinary professor Financial Supervision Law at the VU University in Amsterdam.

Course Instructors

Anna Bak (Association for Financial Markets in Europe- AFME)
Anna Bak is an Associate Director in the Securitisation Division at The Association for Financial Markets in Europe ("AFME") where she is responsible for developing positions on a wide variety of securitisation-related topics and representing those positions to the European institutions and international organisations, as well as a wide range of national authorities. Anna joined AFME in February 2014 to work in the Securitisation Division. She is involved in negotiating industry standpoints on many critical regulatory initiatives, including calibration of the Basel capital and liquidity rules, Solvency 2 rules, derivatives and transparency rules as well as establishing "simple transparent and standardised securitisation" under the European securitisation framework. Earlier in her career, Anna was a transaction lawyer in Amsterdam. Previously, she worked at TMF Group and later at Citco where she spent six years working on variety of ABS transactions, including RMBS, SME and auto-loans structures. Anna holds an LL.M. degree from the University of Utrecht (the Netherlands) with a specialisation in European Law and a Master of Laws degree from the University of Lodz (Poland).

Patrizia Canziani, (Structured Finance Professional)
Patrizia Canziani is a finance professional with more than twenty years' experience in capital markets, credit and structured finance at JPMorgan, Deutsche Bank, Merrill Lynch, Nomura and MUFG. Mrs. Canziani is Non-Executive Director and member of the Risk and related parties committee for listed company Sogefi, a world leader in design and manufacturing of car components. Experienced in sustainability, she holds a certificate in Sustainable Finance from Oxford University, Smith School of Enterprise and the Environment. She is also a financial crime risk consultant and bank monitor. Mrs. Canziani holds a a PhD in Economics from MIT and 14 internationally refereed publications in labour-macroeconomics, pension sustainability and fiscal rules.

Jean-Jacques van Helten (Florence School of Banking and Finance, European University Institute)
Jean-Jacques van Helten is a Visiting Fellow at Robert Schuman Centre for Advanced Studies & the Florence School of Banking and Finance, part of the European University Institute. He is formerly a Managing Director & Chief Risk Officer, EMEA for the Bank of Montreal (BMO) Financial Group and more recently Non-executive member of the Board of BMO Europe. He has worked in a range of senior executive risk and capital markets business roles in major investment banks in Europe, Australia, Asia and the UK where he has been responsible for market, liquidity & operational risks and credit risk analytics. Jean Jacques has also directed Bank recovery and resolution planning, enterprise risk management as well as the implementation of ICAAP and ILAAP and liquidity risk management process and procedures including liquidity stress testing. Jean Jacques completed his undergraduate and Master degrees along with his PhD in economics/economic history at the University of London, studied at the Goethe Universität, Frankfurt and Freie Universität, Berlin and has held academic research positions at La Trobe University and the University of London.

Target audience

This course is held at introductory/intermediate level. It is intended for junior professionals (with between 1 and 5 years of professional experience) from institutions which include:

Financial Regulators
Financial Supervisors
Members from Central Banks
Members of institutions (EU institutions, intergovernmental organisations, national or local institutions)
Academics (researchers and students)
Private sector participants (including but not limited to banks and other financial institutions, law firms, insurance companies)

This course is open to participants from all over the world.

Technical Pre-requisites

To join the live classes you will need to have the Zoom software installed on your computer and a webcam/microphone.

Structure

The course is structured in seven modules:

Module 0: Introduction to the course
Module 1: Securitisation as financial engineering: logic, nuts and bolts
Module 2: Evaluation of Risks and the Crisis
Module 3: Regulatory framework for regulation and supervision of securitisation
Module 4: Prudential regulation of securitisation transactions
Module 5: Dealing with securitisation products on the market
Module 6: Securitisation of NPLs
Module 7: Exercise on NPLs
Module 8: Green Securitisation

Manadatory activities

To receive the certificate of succesfull completion, course participants will have to complete a set of mandatory activities, as described here.

The estimated time required to complete all activities in the course is approximately 20 hours (depending on individual prior knowledge).

Week 1 - 5 hours (modules 0-2)

2 forum questions (modules 1-2)
1 exercise (module 2)
Participation in the first live class

Week 2 - 6 hours (modules 3-4)

1 graded quiz (module 3)
1 graded forum question (module 3)
1 exercise (module 4)
Participation in the second live class

Week 3 - 6 hours (modules 5-6-7)

1 graded quiz (module 6)
1 graded forum question (module 5)
1 exercise (module 7)
Participation in the third live class

Week 4 - 3 hours (module 8)

1 graded quiz (module 8)
Participation in the fourth live class

Course agenda

The course is self-paced. Participants will have access to all contents and material from the first day. The online platform is open 24/7.

11 January


Opening of the Academy
Access to modules 0-1-2
Live class (kickoff)

11 January - 07 February
Self-paced progression throughout lectures and homework exercises (total time approx.required: 12 hours)

15 January - 05 February
Live online sessions (total time approx.equired: 8 hours)

15/01 First live class: Basics + example of a transaction
22/01 Second live class: Regulation
29 /01 Third live class: Market Practice (tbc)
05/02 Fourth live class: Green Securitisation

07 February


Deadline to complete all mandatory activities
Closing of the Academy

Fees

The Academy will take place from 11 January to 7 February 2021.

Registration deadline: 21 December 2020

Fees

Participants from the private sector: € 1200
Participants from the public sector: € 1100
Participants from academic organisations: € 850

Cancellation Policy for online courses/academies:

Registered participants can cancel their participation and ask for a refund until three weeks (21 December) before the start of the course, by sending an email to the FBF secretariat. Past that date, refund requests will no longer be accepted by the Secretariat (unless for compelling and motivated reasons).
In case a course is cancelled, registered participants can request a total refund or request a voucher to attend another FBF course.
In case a course is postponed to another date, registered participants have the following three options: request a voucher to attend another FBF course, transfer their registration to a colleague or request a refund.

Frequently asked questions

When will classes take place?
Anytime! The platform is open 24 hours per day, 7 days per week. You can access the material and progress in the course at your own convenience. Apart from the online seminars set in the course agenda, there are no activities with fixed times.

Do I need to participate in the live classes?
Participation in live classes is mandatory. In case you are unable to attend a live class, inform the course facilitator - you will have the chance to review the session at your own convenience.

What if I do miss a deadline?
If you fail to complete a mandatory activity before a deadline, you will receive a 0% grade on that activity. Extensions can be negotiated, but only in case of severe reasons, which need to be notified before the expiration of the deadline.

Is there a minimum grade required?
The quizzes and the practical exercise are graded (from 0-100%), while individual forums are graded either 0% (no response) or 100% (response submitted). Only participants who, at the time of the deadline for completing mandatory material, will have a combined grade of 80% or above will receive a course completion certificate.

What if I do not reach 80% in all graded material?
Participants who fail to reach a final grade of at least 80% will not qualify a course completion certificate. A certificate of participation will be issued instead.

Do I need any particular hardware or software to join the course?
No. The FBF e-learning platform is accessible via a simple web browser. You will just be asked to install a small plugin for the live classes (instructions will be provided). You will however need to install Zoom to access the live classes.

Does this course qualify for professional development credits?
No. This course does not qualify for any professional development credit scheme.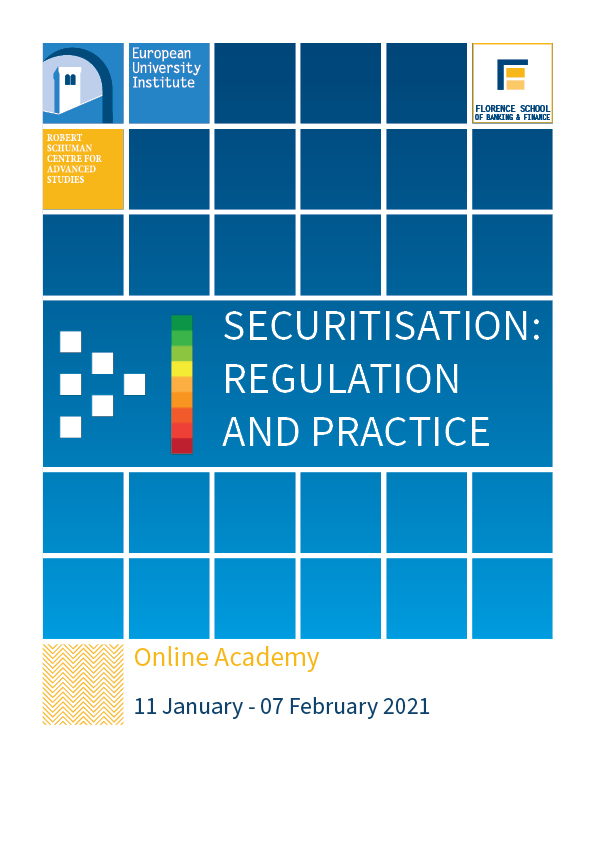 Securitisation: Regulation and Practice brochure