'Valuation in Derivative Markets' course in Florence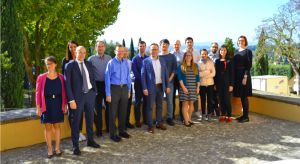 Between 9 and 11 October 2019, the Florence School of Banking and Finance hosted an executive training course on the methodologies, practical tools, and regulatory aspects of valuation in derivative markets.
The course was held by Robert McDonald, Gaylord Freeman Distinguished Chair in Banking and Professor of Finance at the Kellogg School of Management, Northwestern University. His research interests include derivatives and corporate finance and his published work includes early work on real options. He is the author of Derivatives Markets, a leading text now in its third edition, and the R package derivmkts.
In this course, Professor McDonald provided participants with an analytical overview of futures, options, swaps and other derivatives. The course sessions guided participants through the process of constructing derivatives, highlighting how they are deployed to solve particular problems, as well as illustrating the underlying pricing methodologies.
After a review of forward and option pricing, Professor McDonald introduced the basic elements of risk transformation with options and presented the foundations of hedging and risk management. Then, the participants were given an overview of the principal structured instruments, as well as of the Monte Carlo valuation methodology, and the 'exotic options' in the industry. The instructor paid also special attention to the role of the risk premium in pricing.
The analytical sessions were complemented by a reflection of how derivatives fit into the current regulatory environment. Fabrizio Planta, Head of Markets Department at ESMA and head of the Post-Trading Unit, outlined how derivatives are treated by regulation in the EU, in a gobal perspective. In the light of his experience as person responsible at ESMA for the development of technical standards under EMIR and CSDR and on several CCP related manners (such as CCP colleges, stress tests, peer reviews, validation of risk models and recognition of third country CCPs), Mr Planta discussed the European Markets Infrastructure Regulation (EMIR), outlining the clearing obligation, risk mitigation techniques, and reporting. Then, he presented the key elements of the Markets in Financial Instruments Directive (MIFID), including trading obligations, transparency requirements and transaction reporting.