The FBF turns 4!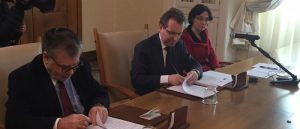 On 12 February 2020, the Florence School of Banking and Finance celebrated its 4th birthday.
Exactly four years ago, the European University Institute's Robert Schuman Centre for Advanced Studies and Fondazione CR Firenze signed the agreement founding the Florence School of Banking and Finance. As a novel hub for policy debate and training activities, bringing together professionals in the banking and finance sector, the FBF has its roots on one side in the academic expertise of the European University Institute, which for over 40 years has been a leading institution for post-graduate research and training activities, and on the other side continues the historical role of the city of Florence, the place where, in the 14th century, modern banking was invented.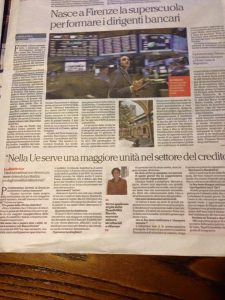 Andrea Enria, who at the time of the launch of the School was President of the European Banking Authority, stated that since a long time, European institutions were 'working on a European programme of training for banking supervision, which we believe is crucial for coordination and convergence of supervisory practices in the EU. The fact that today the European University Institute is setting up the 'Florence School of Banking and Finance' represents a great progress towards this direction. Today we can count on a neutral space, where we can fruitfully develop joint activities'.
Today, the School has grown to become a point of reference in the banking and finance panorama, both in Europe as well as beyond. In its first four years of operation, it has attracted more than 2,500 participants from over 70 countries in its training activities, while over 5,000 people have attended its debate activities, both in-person and online.
The signing ceremony was attended by Elena Carletti, Scientific Director of the FBF, Joseph Weiler, then President of the European University Institute, and Umberto Tombari, then President of Fondazione CR Firenze. The original news item on the ceremony is available at this web address.