'The Economy of Risk in Insurance' Online seminar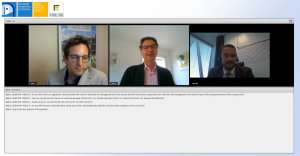 Despite constituting a key dimension of financial markets, the basic economics of insurance remain poorly understood. The latest online seminar by the Florence School of Banking and Finance, held on 15 May 2019 and focused on 'The Economy of Risk in Insurance', was intended to be a first contribution to fill this gap.
The lead presenter in the online seminar was Michel Dacorogna, partner at Prime Re Solutions, a company advising financial institutions on actuarial and economic matters. He is also Director of Risk Management at the Geneva Association and head of DEAR-Consulting, and helds teaching appointments in multiple finance and economics programmes in several universities, including University of Zurich, ETH, Ca'Foscari in Venice and the University of Turin. He is the former scientific advisor to the chairman of SCOR. He conducts research in the field of insurance mathematics, capital management and risks.
In his presentation, Dr. Dacorogna offered a definition of risk and by highlighting the value of risk management from a theoretical point of view. Dr. Dacorogna then discussed the difference between uncertainty and risk as introduced by Frank Knight, and highlighting the application of these concepts in insurance. Through the example of a dice throw, Dr. Dacorogna showed how the price of risk is computed and discussed its main components – what he called the cost of production of an insurance policy. Lastly, he emphasized the role of portfolio diversification and its limitation illustrated through a modification of the example.
The presentation was followed by a comment by Dimitris Zafeiris, Head of the Risks and Financial Stability Department at the European Insurance and Occupational Pensions Authority (EIOPA). As the responsible for EIOPA's activities in the areas of financial stability, crisis management and studies and statistics, Mr. Zafeiris discussed the value creation of risk management, outlining its implication for internal process in financial institutions and the relevance of stress testing exercises, and commented on the role of diversification in reducing risk.