Sovereign Debt Risks – Course in Florence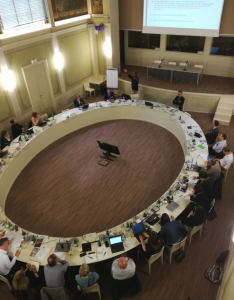 On 23-24 April 2019, the Florence School of Banking and Finance organised in Florence an executive training course on Sovereing Debt Risks, featuring an outstanding panel of world-class experts in the field: Lee Buchheit, Honorary Professor at the University of Edinburgh and previously a lawyer at a major firm in New York, where he designed and implemented sovereign debt restructurings for much of the past twenty-five years; Mitu Gulati, Professor of Law at Duke University; and Jeromin Zettelmeyer, former Director General of Economic Affairs of Germany, currently Senior Fellow at the Peterson Institute of International Economics.
Either together or separately, Buchheit, Gulati and Zettelmeyer have been involved in either the design of or research on every major sovereign debt restructuring over the past two decades. All three have worked extensively on the recent European sovereign debt crisis, and specifically on the Greek debt crisis. In addition, among the countries and regions whose debt crises they have worked on – either in research or practitioner capacity – are Iraq, Ireland, Cyprus, Argentina, Uruguay, Belize, Mexico, Iceland, Ecuador, Belize, Grenada, Jamaica, Philippines, Puerto Rico and Venezuela.
The goal of this executive training course was to enable an understanding of the risks in sovereign debt, particularly those risks relating to sovereign default and restructuring, with the aim of providing participants with an overview of both the economic and legal considerations involved in the operation of any sovereign debt crisis.
After an initial history of sovereign debt crises and an overview of their characteristics, instructors focused on what happens during a crisis, discussing particularly the approaches to debt restructuring and the possible methods, with particular attention to the relationship with creditors.
After that, instructors focused on two case studies, Italy and Venezuela, sharing their view on what would happen in possible upcoming restructurings, illustrating particularly how restructuring plans get designed. In addition, participants were exposed to the proposals to reform the machine of sovereign debt restructuring, as well as the regulatory initiatives in Europe.
The course was closed with a war game, during which participants were asked to take active part in a fictional debt restructuring case.