'Regulation of Shadow Banks' course ends in Amsterdam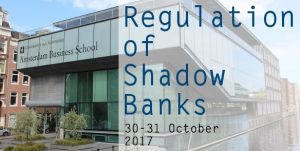 The course 'Regulation of Shadow Banks', organised by the Florence School of Banking and finance at Amsterdam Business School, was completed on 30-31 October 2017.
This advanced course focused on financial and prudential aspects of shadow banking, defined as all large financial intermediaries that because of their scale, role, funding or investment strategy may contribute to systemic risk. Presentations in the course paid particular attention to their legal underpinnings and implications, mainly covering banking regulation in European law and, for certain aspects, similar regulations in the United States.
The course was taught by experts with significant policy experience or legal insight, starting from Enrico Perotti (PhD in Finance at MIT, 1990), Professor of International Finance at the University of Amsterdam, who introduced the course and discussed the emerging regulations in the sector arising in the US, as well as selected regulatory issues on security lending and secured credit, related particularly to the funding of shadow banking activities via repos and the consequences of so-called 'Safe Harbor' Privileges.
Proceeding in the course, Bart Joosen, Professor at VU Amsterdam and a private practice lawyer, working particularly for financial market clients, discussed where the boundary between banks and near-banks actually lies, assessing in particular the concrete case of Lehman Treasury Centre BV, declared bankrupt by the Amsterdam District Court on 8 October 2008.
The second day of the course opened with Roger Laeven, Chair of Risk and Insurance at the University of Amsterdam's Department of Quantitative Economics, providing an outlook on the insurance regulation panorama in Europe, including the current and future SII review, as well as on how systemic risk is tackled in insurance. Finally, Iman Van Levyveld, Senior Policy Advisor with DNB's Statistics Division and Professor of Banking and Financial Markets at VU Amsterdam's Finance Group, addressed the developments in the market for derivatives and the regulation of common counterparty platforms, concluding then the course with a description of how to manage stress testing and handling defaults.
Participants in the course included representatives from European institutions such as the European Central Bank and European Banking Authority, national central banks such as the Bank of Italy, the Central Bank of Ireland and the Bank of Korea, as well as representatives from international organisations, private sector actors and academic institutions.