Patrick Honohan speaks at the Florence School of Banking & Finance
On 27 November 2017 the Florence School of Banking and Finance had the pleasure to host Patrick Honohan for a lecture on 'Central Banking in Europe Today: Over-Mighty or Under-Powered?'. Patrick Honohan was Governor of the Central Bank of Ireland and a member of the Governing Council of the European Central Bank from September 2009 to November 2015. He is an honorary Professor of economics at Trinity College Dublin, non-resident Senior Fellow at the Peterson Institute for International Economics in Washington, DC and member of the Scientific Committee of the Florence School of Banking and Finance.
The event was opened with introductions by Ambassador Vincenzo Grassi, EUI Secretary-General; Professor Brigid Laffan, Director of the Robert Schuman Centre for Advanced Studies; and Professor Andrea Simoncini, Professor of Constitutional Law at the University of Florence and member of the Steering Committee of Fondazione CR Firenze, whose support made the event possible.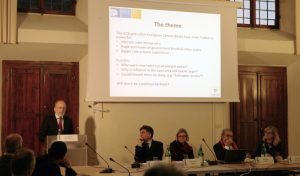 In his lecture, Dr Honohan explained how the crisis has gradually drawn the ECB into policy areas and instruments for which its mandate is less explicit, though no less real. First he assessed the mandates of central banks, highlighting their consequent actions and behaviours, analyzing in particular how their tools have evolved in response to the financial crisis. He then provided a thorough description of the ECB's behaviour during the crisis, explaining how it transitioned from the 'separation principle' adopted at the outburst of the crisis (according to which its macroeconomic mandate should be addressed through the use of conventional interest rate policies, while financial market instability should be addressed only with nonstandard measures) to a more coherent and integrated approach towards the end of 2011. Finally, Dr Honohan discussed then the policies adopted by the ECB to steer inflation, explaining why it has been moving so slowly towards the target rate, as well as the implementation of possible new tools that could have a quicker impact on the aggregate economic activity, such as 'helicopter money'.
The event was closed by a Q&A session, moderated by Professor Giorgia Giovannetti, Professor of Economics at the University of Florence and visiting fellow at the European University Institute.
Download the revised speech, published by the Peterson Institute
RECORDING OF THE EVENT