Panel Data for Banking Sector Analysts – Latest FBF residential course
On March 6th, 2019, the Florence School of Banking and Finance completed its fourth course of the year, which focused on 'Panel Data for Banking Sector Analysts'. This fully booked course was taught by Professor Jeffrey Wooldridge, University Distinguished Professor of Economics at Michigan State University.
A highly influencial econometrician, Professor Wooldridge is a Fellow of the Econometric Society and the Journal of Econometrics, and has authored two textbooks in econometrics: Introductory Econometrics: A Modern Approach, and Econometric Analysis of Cross Section and Panel Data. He has served on several editorial boards, including as editor for the Journal of Business and Economic Statistics as co-editor of Economics Letters.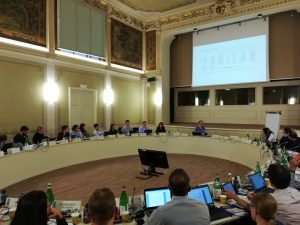 The course covered the basics of panel data analysis, complemented with some more advanced extensions, which focused mainly on microeconometric settings with a large number of cross-sectional observations.
The instructor started from introducing and discussing the most common estimatrors, such as Pooled OLS, random effects, fixed effects and first differencing, emphasizing robust inference and specification tests. After a session focused on the criteria for choosing among the estimators, the instructor engaged the audience with a practical session, in which they applied the estimators to selected problems in banking. Then, the sessions concentrated on extensions that allow heterogeneous slopes and trends, and instrumental variables methods, which were applied in a second practical exercise. Finally, the instructor presented participants with the problem of unbalanced panels, random trends and random coefficients, as well as with non linear models for binary and non-negative outcomes.
The practical sessions featured exercises conducted using the STATA software, followed by a discussion of the solutions.