Models for Financial Stability and Prudential Policy – Course in Florence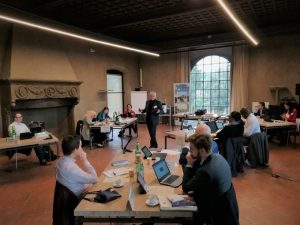 The Florence School of Banking and Finance started its 2020 executive training activities on 3-5 February, with a residential course at its premises in Florence on the 'Models for Financial Stability and Prudential Policy'.
The aim of this course was to present the concepts, principles and models underlying prudential regulation of banks. Through an overview of the underlying theory and some real life application, the sessions highlighted to participants how these models have to be modified to deal with systemic risk and contagion.
The course was opened by Jean-Charles Rochet, SFI Professor of Banking in the Banking and Finance Institute at Zürich University, who provided a description of the current scenario for financial regulation in Europe, identifying the open challenges and assessing the recent contributions from academic research. He then proceeded with a description of how to measure credit cycles in economic models, underlying the factors that should guide policy-making.
In the following sessions, the course was concentrated on the conceptual foundation for prudential policy, including microprudential regulations and macroprudential policies. In this framework, the concept of bank runs was discussed in-depth, addressing the role of the 'lender of last resort' and the possible avenues for financing SIFIs.
Bruno Maria Parigi, Professor of Economics at the University of Padova, introduced then the topic of bank resolution, focusing in particular on the management of capital under the provisions of the European regulation. This presentation introduced the topic of liquidity, which was complemented by a presentation on macro-models by Professor Rochet.
Finally, the course was closed by a discussion of the role of banks in sovereign debt crises. Professor Parigi highlighted the effect and impact on economic activities of the so-called 'doom loop', discussing how to evaluate the sustainability of sovereign debt.