Latest FBF course on Own Funds, MREL and TLAC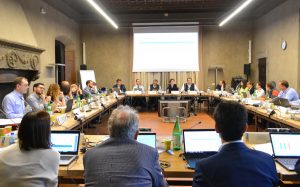 The last executive course organised in Florence by the Florence School of Banking and Finance aimed at providing a holistic reading of the various regulatory layers which define the quality and composition of the different loss-absorbing requirements, both for going concern and gone concern situations.

In particular, it highlighted the continuum and interplay between two sets of requirements: the forthcoming full incorporation into the European Union legislation of the "Basel III framework" (CRD V (II) – CRR II) and the legislative package to enhance credit institutions' resolvability (BRRD II-SRMR II) also based on international standards (the "TLAC standard" of the Financial Stability Board).

The course was opened by Christos Gortsos, Professor of Public Economic Law at the Law School of the National and Kapodistrian University of Athens, who presented to the participants the criteria and methods to set own funds requirements for credit institutions in terms of prudence (micro- and macroprudential requirements) and preparation for resolution, as well as the EU banking regulatory framework governing own funds.

Following this background overview, Seraina Grünewald, assistant Professor for Financial Market Law at the Institute of Law of the University of Zurich explained to the participant how the MREL level is set under the provisions of the BRRD/SRMR I and II and, higlighting the objective, rationales and points in common.

For the provisions of BRRD II and SRMR II, parts of the material was covered by Emiliano Tornese, Deputy Head of the Resolution and Crisis Management Unit in the European Commission's DG FISMA and Part-time Professor at the Florence School of Banking and Finance.

The next sessions focused on reporting and monitoring of own funds and MREL, in a session led by Charles Canonne, senior expert at the European Banking Authority's capital unit and the lead expert on MREL, and on the SRB's MREL policy and the changes ahead, with a presentation by Guillaume Adamczyk, Head of Unit in charge of resolution planning at the Single Resolution Board. Finally, the course focused on the interplay and impact of the new rules on the banks' business models. In this sessions, the members of the faculty discussed the results of a practical exercise, during which participants were asked to set Own Funds and MREL for a fictional bank.