Executive training course on the 'Prudential risks and policies in the insurance sector'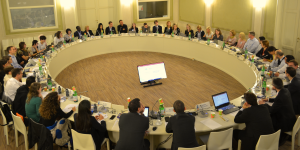 The latest executive training course at the Florence School of Banking and Finance, organised jointly with the European Systemic Risk Board (ESRB) and the European Insurance and Occupational Pensions Authority (EIOPA), was held in Florence on 17-18 October 2019.
This course, instructed by leading experts from the participating institutions, discussed the micro and macro risks and prudential policies for the European insurance sector, providing an overview of the business model of insurers – from the principle of risks pooling to reinsurance and insurtech – and of the main risks to which they are exposed.
The course was opened with the description of the foundational concepts of insurance and financial stability by Petr Jakubik, head of the Financial Stability Team at EIOPA. The following sessions, led by Matteo Sottocornola, Senior Expert on Financial Stability in the Risks and Financial Stability Department, and Dieter Hendrickx, Head of prudential policy insurance at the National Bank of Belgium, provided an overview of the European insurance sector, of the typical balance sheet of an insurer, and of the risks that affect them. Then, participants were introduced to the rationale and details of the current microprudential framework, namely Solvency II, by Camille Graciani, financial stability expert at the ESRB secretariat. Finally, the first part of the course was closed by Petr Jakubik, who outlined the relationship between the insurance sector and financial stability, describing the principal risks and their transmission channels, as well as the stress tests to identify them.
The second part of the course was opened by Yildiz Ekinci, seconded national expert in the Risks and Financial Stability Department at EIOPA, who outlined what happens when insurers fail, concentrating on the recovery and resolution actions, particularly in the light of cross-border considerations and the individual national frameworks. Finally, Olaf Weeken, Adviser in the ESRB Secretariat, and Dimitris Zafeiris, Head of the Risks and Financial Stability Department at EIOPA, discussed why a macroprudential framework is needed for the insurance sector, outlining the conceptual framework and presenting the necessary tools.