Executive seminar: 'The New World of Financial Stability'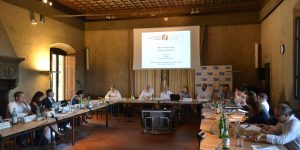 On 27-28 June, the Florence School of Banking and Finance organised its yearly two-day, closed-doors Executive Seminar. This event, held under the Chatham House rules, gathers yearly high-profile speakers from European institutions, from governments and financial supervisory authorities, as well as from the private sector and academia to discuss and review the most pressing challenges for banking and finance.
This year's executive seminar focused on 'The New World of Financial Stability'. Looking at both banking and non-banking actors, the seminar assessed the framework and practice for European regulation and supervision of financial institutions, assessed the market impact of the developments in the Single Market, and discussed the risks and opportunities stemming from new technologies, reviewing current oversight gaps and exploring possible remedies.
The first session, chaired by Boštjan Jazbec (Single Resolution Board), focused on the development of the Single Market, discussing its implications on the concept of the capital markets union, ring-fencing, and cross-border M&As in Europe. The panel featured contributions from Wilson Ervin  (Credit Suisse), Emiliano Tornese (European University Institute and European Commission) and Lucia Quaglia (University of Bologna).
The discussion then moved to the topic of how to deal with NPLs, including an assessment of national asset management companies and an evaluation of secondary markets. Chaired by Ignazio Angeloni (SAFE Research Center, University of Frankfurt), the panel featured Manfred Heemann (Bafin), Helen Louri (Athens University of Economics and Business), and Vincenzo Lento (Credito Fondiario).
The third session focused on new technologies, assessing cyber-risks and the regulatory implications. The panel was chaired by Philippe Allard (European Banking Authority) and featured presentations from Jon Danielsson (LSE), Kilvar Kessler (Estonian Financial Supervision Authority), John Collins (FS Vector), and Tobias Tröger (Frankfurt University).
Finally, the last panel, chaired by Steffen Kern (ESMA) and featuring as speakers Joanna Cound (Blackrock), Sujit Kapadia (ECB) and Yasushi Shiina (FSB) discussed the issues related to the rise of Shadow Banking, highlighting the risks and opportunities and the supervisory implications.
The executive seminar featured also keynote addresses by Vittorio Grilli, Chairman of the Corporate & Investment Bank, EMEA at J.P. Morgan and by Simon Gleeson, Partner at Clifford Chance.