Online seminar – State Aid in the context of COVID-19
When:
April 3, 2020 @ 1:00 pm – 2:00 pm
Europe/Rome Timezone
2020-04-03T13:00:00+02:00
2020-04-03T14:00:00+02:00
Where:
FBF Online Platform

Contact:
Jan Trevisan
+39 055 4685 802
[NEW] Amendment to the Temporary Framework
---
On 19 March, the European Commission adopted a Temporary Framework to enable Member States to use the full flexibility foreseen under State aid rules to support the economy in the context of the COVID-19 outbreak.
In this online seminar, Ramona Ianus (DG Competition, European Commission) will illustrate the main characteristics of the Temporary Framework, which enables Member States to ensure that sufficient liquidity remains available to businesses of all types and to preserve the continuity of economic activity during and after the COVID-19 outbreak.
Thus, direct grants, selective tax advantages, public guarantees or public loans can be granted to companies that face difficulties because of the COVID-19 outbreak. In addition, banks and other financial institutions have a key role to play in dealing with the effects of the COVID-19 outbreak, by maintaining the flow of credit to the economy. Therefore, the Commission inserted the necessary safeguards in the Temporary Framework to ensure that the support is reaching the undertakings and does not stay with the banks.
---
Speaker
Ramona Ianus, DG Competition – European Commission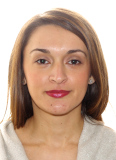 Ramona Ianus joined the European Commission and DG Competition in 2007, where she scrutinised investment projects in the solar, semiconductor and car sectors and dealt with the 2009 temporary framework cases. She was also involved in the state aid modernization package and was responsible for the preparation of the regional aid rules for 2014-2020. In 2016, Ramona went to Bucharest to be the legal adviser of the Deputy Prime Minister, Costin Borc, Minister of Economy. She now works in DG Competition in the state aid coordination unit being responsible, among other, for the COVID-19 Temporary Framework and international aspects of state aid. Ramona is a lawyer and graduated from the University of Bucharest in Romania and from Pantheon Sorbonne Paris I University. She holds a master of European law from the College of Europe (Bruges).
---
Technical disclaimer
The online seminar will take place on the Adobe Connect platform. You can access the seminars from personal computers, laptops, tablets and smartphones. You are strongly encouraged to read the technical requirements before registering for the online seminar. To ensure an optimal experience in terms of connection speed and video quality, we suggest to attend the seminar via a device connected to a stable network connection, avoiding if possible shared wi-fi or mobile connections.