Online seminar – The Digitalization of Money
When:
August 27, 2019 @ 1:00 pm – 2:00 pm
Europe/Rome Timezone
2019-08-27T13:00:00+02:00
2019-08-27T14:00:00+02:00
Where:
FBF Online Platform

Contact:
Jan Trevisan
+39 055 4685 802
---
Digitalization has changed everything in our lives: how we communicate, organize, interact, move, and trade. Increasingly, it is also changing how we pay, and potentially how we count, transfer and store value. In short, digitalization is changing money—certainly in its role as a medium of exchange and maybe as a store of value and unit of account as well.
Despite electronic money (e-money) first appeared more than twenty years ago, their exchanges represent today still a small fraction of total financial movements. This is now changing fast, as mobile technology and the internet are joining forces to produce a silent revolution in payments. New forms of money are emerging while digital networks and platforms have the potential to transform and disrupt financial intermediation more broadly.
In this online seminar, Jean-Pierre Landau (Harvard Kennedy School and SciencesPo) will discuss the future of money, in light of these evolutions. His presentation will also examine how digitalization will (1) increase the potential for currency competition (2) change the architecture of domestic and international monetary systems and (3) may affect the respective role of public and private money. Dr. Landau will make a strong case for central banks to consider issuing their own digital currencies (CBDCs) as a way to protect the role of public money in a digitalized environment.
The presentation will be closed by a live Q&A session with the audience.
---
Speaker
Jean-Pierre Landau (Harvard Kennedy School and SciencesPo)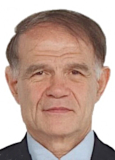 Jean-Pierre Landau is currently a Senior Research Fellow at the Harvard Kennedy School and Associate Professor of Economics at SciencesPo (Paris). He has worked in the French Government for most of his career. He served as Deputy Governor of the Banque de France (2006-2011), Executive Director of the International Monetary Fund (IMF) and the World Bank (Washington) as well as Undersecretary at the Ministry of Finance. He has been Visiting Lecturer at Princeton University (Woodrow Wilson School) and Visiting professor at SAIS (John Hopkins – Washington DC). He also was Dean of the School of Public Affairs at SciencesPo in 2014-2015.
---
Technical disclaimerThe online seminar will take place on the Adobe Connect platform. You can access the seminars from personal computers, laptops, tablets and smartphones. You are strongly encouraged to read the technical requirements before registering for the online seminar. To ensure an optimal experience in terms of connection speed and video quality, we suggest to attend the seminar via a device connected to a stable network connection, avoiding if possible shared wi-fi or mobile connections.