Online Seminar – Bank Lending in The Age of Digital Disruption
When:
May 22, 2018 @ 1:00 pm – 2:00 pm
Europe/Rome Timezone
2018-05-22T13:00:00+02:00
2018-05-22T14:00:00+02:00
Where:
FBF Online Platform

Contact:
Jan Trevisan
+39 055 4685 802
---
Digital technologies are disrupting the world of banking and finance. Their advent visibly results in new opportunities. However, digital banking may also bring along new threats. Against the background of a long series of financial and technological innovations, this online seminar will focus on the economics of banking services in the new digital age. Professor Jean Dermine (INSEAD) will concentrate on banks' two main functions – the provision of liquidity and the provision of loans – and will ask whether these services could be displaced by peer-to-peer and marketplace lending.
Dermine will in particular assess one segment of digital disruption, peer-to-peer (P2P) lending. The case of Lending Club, the emblematic leader of the US P2P sector will help to anchor the discussion on real-life issues and to anticipate likely developments in the globalized industry. In his talk he will also engage with contemporary regulatory issues.
Giacomo Calzolari (University of Bologna and Center for Economic Policy Research) will then provide his views and comments on the argument.
As always the session will end with an interactive Question and Answers session.

References:
The content of the seminar is based on two publications by Professor Dermine:
---
Speakers
Jean Dermine (Professor of Banking and Finance, INSEAD)

Jean Dermine is Professor of Banking and Finance at INSEAD and director of the its 'Strategic Management in Banking' and 'Risk Management in Banking' senior executive programs. He is also the founder of the INSEAD Centre for International Financial Services. He has been a Visiting Professor in several universities, including the Wharton School of the University of Pennsylvania, the University of Lausanne and CESAG in Dakar, and has been a visiting fellow at New York University, Göteborg University and the Stockholm Schools of Economics. As a consultant or director of training programmes, he has worked with European institutions, national central banks, consulting firms and private banks. His  research deals with topics including long-term value creation and risk control, FinTech, asset & liability management, bank valuation, credit risk and loan-loss provisioning.

Giacomo Calzolari (Professor of Economics, University of Bologna)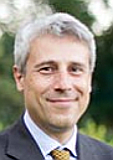 Giacomo Calzolari is Professor of Economics at the University of Bologna and Research Fellow at the Centre for Economic Policy Research in London. He has been conferred the Young Economist Award of the European Economic Association and the 2014-Best paper award by the Association of Competition Economics. He has published in top international journals such as American Economic Review, Rand Journal of Economics, International Economic Review and Journal of Economic Theory. He is co-editor of journals including the 'International Journal of Industrial Organization' and 'Labour: Review of labour economics and industrial relations'. He is member of steering committee of the European Association of Industrial Economics and the Association of Competition Economics.
---
Technical disclaimer
The online seminar will take place on the Adobe Connect platform. You can access the seminars from personal computers, laptops, tablets and smartphones.
You are strongly encouraged to read the technical requirements before registering for the online seminar.
To ensure an optimal experience in terms of connection speed and video quality, we suggest to attend the seminar via a device connected to a stable network connection, avoiding if possible shared wi-fi or mobile connections.