Online debate | Non-Performing Loans (NPLs): A Critical Stock-Take
When:
October 29, 2020 @ 1:00 pm – 2:00 pm
Europe/Rome Timezone
2020-10-29T13:00:00+01:00
2020-10-29T14:00:00+01:00
Contact:
Jan Trevisan
[+39] 055 4685739
---
As a result of COVID-19, Non-Performing Loans (NPLs) are on the rise in Europe and globally. The Covid-19 pandemic has indeed halted the already fragile European economy. As the latest global financial crisis confirmed it – higher levels of NPLs slowed down economic recovery and deepened recession. In this context, containing and possibly reducing NPL levels is proving to be a major challenge, both for market participants and for policy-makers. The too timid economic recovery indicators combined with the weak macroeconomic context and structural issues will no doubt put NPLs high on the policy agenda.
Against this background the purpose of this online debate is to review the lessons learned from the previous financial crisis, explore the suite of possible solutions and discuss how to better prepare for handling new NPL surges in the future.
---
Chair and Moderator
Elena Carletti (Bocconi University and Florence School of Banking and Finance, European University Institute)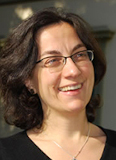 Elena Carletti is Professor of Finance at Bocconi University. She is also at the Florence School of Banking and Finance at the European University Institute, is a member of Board of Directors of Unicredit SpA and a member of the Advisory Scientific Committee of the European Systemic Risk Board (ESRB). Furthermore, she is research professor at the Bundesbank, a member of the Expert Panel on banking supervision for the European Parliament, a member of the Scientific Committee "Paolo Baffi Lecture" at the Bank of Italy, a member of Bruegel Scientific Committee, Research Fellow at CEPR, Fellow of the Finance Theory Group, CESifo, IGIER, and Wharton Financial Institutions Center. She is the author of numerous articles on Financial Intermediation, Financial Crises and Regulation, Competition Policy, Corporate Governance and Sovereign Debt.
---
Speakers
Nicoletta Mascher (European Stability Mechanism)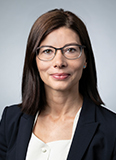 Nicoletta Mascher is Head of Division within the Chief Economist's department of the European Stability Mechanism (ESM), which she joined in October 2018. She is responsible for monitoring financial sector conditions and regulatory developments in the euro area. In the execution of the ESM post-programme activities, she is country team coordinator for Ireland.Prior to this, Ms Mascher worked at the European Central Bank as Joint Supervisory Team Coordinator. She previously served as supervisor, on-site inspector and director at Banca d'Italia; she also worked as financial analyst in the asset management industry, specialising in fixed income and derivatives.Ms Mascher is a graduate of Luigi Bocconi University of Milan, where she received a Master's degree in economics. Charles-Antoine Dozin (Morgan Stanley)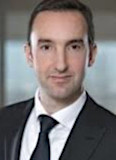 Charles-Antoine Dozin is Executive Director, Capital Markets and Bank Solutions at Morgan Stanley. Nicolas Véron (Peterson Institute for International Economics and Bruegel)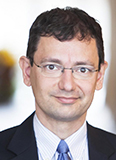 Nicolas Véron is a Senior fellow at the Peterson Institute for International Economics since October 2009 and is a senior fellow at Bruegel, the Brussels-based economic policy think tank he helped cofound in 2002–2004. A French citizen and graduate of Ecole Polytechnique and Ecole Nationale Superieure des Mines de Paris, he has held various positions in the public and private sectors, including as corporate adviser to France's labor minister (1997–2000), as chief financial officer of the publicly listed internet company MultiMania / Lycos France (2000–2002), and as an independent financial services consultant. Since July 2013 he has been a board member of the derivatives arm of the Depository Trust and Clearing. His research is mostly about financial systems and financial reform around the world, including global financial regulatory initiatives and current developments in the European Union. He has published on accounting standards, audit firm governance, banking supervision, cross-border financial crisis management, economic nationalism, financing of high-growth firms, industrial policy, internationalization of large companies, oversight of inward investment in the European Union, and rating agencies. In September 2012, Bloomberg Markets included Véron in its second annual 50 Most Influential list, with reference to his early advocacy of European banking union.
---