POSTPONED: Lecture by Lorenzo Bini Smaghi: 'Creating a True Capital Market Union'
When:

March 9, 2020 @ 4:00 pm – 7:00 pm

Europe/Rome Timezone

2020-03-09T16:00:00+01:00

2020-03-09T19:00:00+01:00

Where:

Palazzo Incontri
via dei Pucci 1
Firenze (Italy)

Contact:

Jan Trevisan

+39 055 4685 802

EVENT POSTPONED
The event is postponed to a date to be communicated, in accordance with the disposition by the Italian government to contain the spread of the COVID-19 virus
(Decreto Presidenza del Consiglio dei Ministri del 4 marzo 2020, Art 1.1.a)

The Florence School of Banking and Finance, Fondazione CESIFIN Alberto Predieri and Fondazione CR Firenze are organising a high-level lecture by Lorenzo Bini Smaghi, President of Société Générale.
---
There is a broad consensus among policy makers, academics and market practitioners that the Eurozone requires a deep and liquid capital market to foster economic integration, to absorb shocks and to support growth. However, there is little understanding of what needs to be done to achieve such a goal.
A comparison with the US experience shows that there are some necessary conditions that need to be met for a true capital market to be created. Dr. Bini Smaghi will mention the following five:
the complementarity with full banking union;
the creation of a safe asset;
the support of public schemes for lending, in particular to SMEs;
a regulatory environment that allows for market-making;
a unified supervisory framework.
Unless the member states are willing to adopt concrete steps in these areas, the CMU will not be created. This is the reason why the European Commission has to be clear and outspoken in presenting policy makers with clear and bold proposals.
(italian version)
Verso la creazione di una vera Unione dei mercati dei capitali
 Esiste un largo consenso tra decisori politici, accademici e operatori nel mercato, in merito alla necessità di un mercato dei capitali nell'Eurozona, integrato e liquido, che possa promuovere l'integrazione economica, assorbire gli shock e favorire la crescita. Ciò nonostante, non esiste una visione condivisa in merito alla modalità in cui questo obbiettivo può essere raggiunto. Un'analisi della situazione negli Stati Uniti dimostra quali sono le condizioni necessarie per la creazione di un vero mercato dei capitali. Nel corso della lezione, Lorenzo Bini Smaghi ne menzionerà cinque: i) la complementarietà con una piena unione bancaria; ii) la creazione di un 'safe asset'; iii) il supporto a schemi pubblici di prestito, in particolare alle PMI; iv) un ecosistema regolamentario che renda possibile la costruzione di mercati; v) una struttura unificata di supervisione. A meno che gli Stati membri non vogliano agire concretamente in queste aree, l'Unione dei mercati dei capitali non potrà essere creata. Questa è la ragione per la quale la Commissione Europea dev'essere diretta nel presentare trasparenti e audaci proposte ai decisori politici.
---
Speaker
Lorenzo Bini Smaghi
Chairman of Société Générale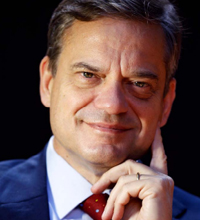 He started his career in 1983 as an Economist in the Research Department of the Banca d'Italia. He moved in 1994 to the European Monetary Institute, to head the Policy Division, preparing for the creation of the ECB. In 1998 he was appointed Director General for International Affairs in the Italian Treasury. From June 2005 to December 2011 he was a Member of the Executive Board of the European Central Bank.
Over the last 20 years he held the positions of Chairman of Italgas, SNAM and SACE, and member of the Board of Finmeccanica, MTS, the European Investment Bank and Morgan Stanley International. He has been Visiting Scholar at Harvard's Weatherhead Center for International Affairs and the first Chairman of Fondazione Palazzo Strozzi, a cultural institution in Florence.
He has been appointed CEPR Distinguished Fellow, Senior Fellow at LUISS School of European Political Economy in Rome, and President of the Italian Alumni of the University of Chicago. He is a member of the World Economic Forum's Community of Chairmen, and independent member of the Board of Tages Holding. He holds a Bachelor's Degree in Economics from the Université Catholique de Louvain (Belgium), a Master's degree from the University of Southern California and a Ph.D in Economics from the University of Chicago.
He is author of several articles and books on international and European monetary and financial issues (available at www.lorenzobinismaghi.com), in particular "Austerity: European Democracies against the Wall" (CEPS, July 2013), "33 false verità sull'Europa" (Il Mulino, April 2014) and "La tentazione di andarsene: fuori dall'Europa c'è un futuro per l'Italia?" (Il Mulino, May 2017).
---
Programme
16:00 Registration and welcome coffee
16:35 Opening remarks

Ginevra Cerrina Feroni (Professor, Law Department, University of Florence; Vice-President, Fondazione CESIFIN Alberto Predieri)
Pierre Schlosser (Scientific Coordinator, Florence School of Banking and Finance)

 16:55 Lecture Lorenzo Bini Smaghi (President, Société Générale)
17:35 Discussion, followed by questions and answers

Moderated by Ferdinando Giugliano (Bloomberg)

Lorenzo Stanghellini (Professor of Business Law, University of Florence)
Giacomo Calzolari (Professor, Economics Department, European University Institute)

18:50 Closing remarks

Renaud Dehousse (President, European University Institute)
Luigi Salvadori (President, Fondazione CR Firenze)

19:10 Cocktail for all participants
The event will be in italian, with simultaneous translation in English. / L'evento si terrà in italiano, con traduzione simultanea in inglese.
Download the programme
---
EVENT CO-ORGANISED WITH

Fondazione CESIFIN Alberto Predieri

Fondazione CR Firenze