'Credit and the Macroeconomy' executive training course
On 18-20 March 2019, the Florence School of Banking and Finance organised an executive training course on 'Credit and the Macroeconomy: Leverage Cycles, Asset Prices and Crisis' with Moritz Schularick, Professor of Economics and Economic History at the University of Bonn and a Research Fellow of the Centre for Economic Policy Research in London and the CESifo Research Network.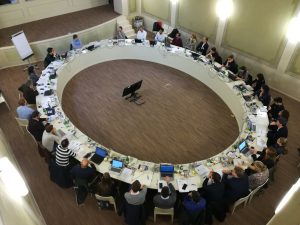 This course first opened with a historical overview of the evolution of housing finance, which has come to play a central role in the modern macroeconomy, identifying its impact on business cycles. Then, professor Schularick discussed the causes causes and effects of financial crises, discussing in particular the role of bank capital and liquidity ratios, and assessing how different economic indicators perform in crisis prediction models.
In the following sessions, the lessons concentrated on credit booms, particularly on the distinction between 'good' and 'bad' credit booms, differentiating those that can stimulate economic growth from those that may increase the risk of experiencing a financial crisis. In addition to presenting the model-based approach to detecting and analyzing credit booms, professor Schularick discussed the efficiency of monetary policy and macruprudential policy in dealing with these booms, and more in general discussed their impacts on credit cycles.
During the course, participants were engaged in practical sessions led by Matteo Gatti and Anna Rogantini Picco, researchers in Economics at the European University Institute. In these sessions, participants were guided in applying in practice the theoretical framework on datasets via codes ran in STATA to compare early warning models for systemic crises, estimate the output costs of crises and their determinants, and estimate the effects of monetary shocks and of macroprudential policies.