Course 'Stress Testing the Financial Sector'
The latest executive training course by the Florence School of Banking and Finance was held from the 8th to the 10th of April and focused on 'Stress Testing the Financial Sector'.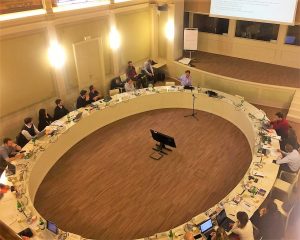 Stress testing is part of banks' own risk management as well as of the toolkit of bank supervisors. During the crisis, stress tests became a successful tool to provide insight into bank capitalization and deploy countermeasures for addressing potential shortfalls. Post-crisis, stress testing is gradually moving back to its "peace time" function, that is to identify potential vulnerabilities in hypothetical adverse conditions.
This course has been co-directed by Til Schuermann, partner at Oliver Wyman and Co-Head of Risk and Public Policy practice for the Americas, and Mario Quagliariello, Director of the Economic Analysis and Statistics Department at the European Banking Authority.
The course was opened by an overview of the history of stress testing and a comparison between the experiences in the US and the EU. Then, the course instructors focused on risk coverage, narrative and scenario design, which featured a guest lecture by John Fell, Deputy Director General for Macroprudential Policy & Financial Stability in the European Central Bank. Deep dives allowed to go into the details of several key aspects of stress testing such as modelling of credit losses, data needs and management, interaction with prudential and accounting standards.
Subsequently, after an overview of the EU wide stress test conduced in 2018, the instructors engaged participants in a practical exercise, in which they have been asked to design stress testing scenarios adopting the perspectives of regulators and private bankers in different European countries.
The course was closed by a guest lecture on quality assurance in stress testing, delivered by Klaus Düllmann, Head of SSM Risk Analysis Division within Directorate General Micro-Prudential Supervision IV of the European Central Bank in Frankfurt, and by an overview of other applications of stress testing, among which instructors discussed CCPs and climate risk.
A participant from the European Mortgage Federation – European Covered Bond Council commented on the course as follows:
This training at the FBF & EUI has been very helpful to grasp the subject of stress testing with both empirical and theoretical perspectives.