Course on Liquidity, Price Discovery and Market Design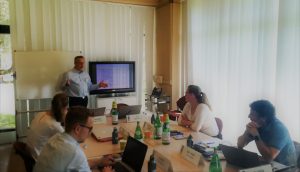 The Florence School of Banking and Finance organised on 3-5 June 2019 an executive training course on 'Liquidity, Price Discovery and Market Design' with Thierry Foucault is HEC Foundation chaired Professor of Finance at HEC, Paris and a research fellow of the Centre for Economic Policy (CEPR).
This course covered the standard models of price discovery and asset illiquidity in financial markets. Professor Foucault, who has extensive academic and research experience on the determinants of financial markets liquidity, the industrial organization of the markets and their effect on the real economy, opened the course with an overview of price discovery, illiquidity and informed trading, highlighting their mutual relations.
In the following sessions the instructor provided an overview and assessment of the various frictions that can affect the liquidity of an asset, as well as of the determinants of market illiquidity. Then, the course introduced participants to the methodologies using trade and quote data to measure the contribution of these frictions to illiquidity.
Furthermore, Professor Foucault addressed some on-going policy discussions on market design, including debates on transparency, on algorithmic and high frequency trading and on centralization, discussing each of these concepts and highlighting what can be learnt from models and data with respect to those issues.
This course combined lectures with practical exercises, conducted in the statistical analysis software E-Views and facilitated by teaching assistant Anna Rogantini-Picco, PhD researcher at the Economics Department at the European University Institute.