'Climate Change Risks Hidden within Financial Institution's Balance Sheets'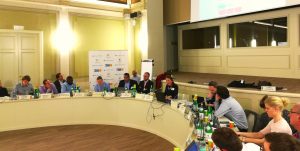 Climate change is becoming more and more a concrete risks for financial institutions. While in the past climate risk assessment was focused on managing the impact of the operations of an institution, such an approach is no longer sufficient following the increase of financial stakes and growing external pressures.
With this evolution in mind, the Florence School of Banking and Finance teamed up with Oliver Wyman to organise on 28-30 October 2019 a course on the 'Climate Change Risks Hidden within Financial Institution's Balance Sheets'.
This course focused on the risks that climate change poses to the financial services sector, examining how the risk landscape has been altered by climate change,reviewing the practical approaches for quantifying their impact and discussing best practices for integrating climate risk into the risk management framework.
After an introduction by Pierre Schlosser, Scientific Director of the Florence School of Banking and Finance, and Andrea Federico, Partner at Oliver Wyman and Co-Head Public Sector & Policy, EMEA, the course opened with an introduction to climate-related financial risks and the metrics used to quantify them, delivered by Stefano Battiston, SNF Professor of Banking at the University of Zurich.
The next sessions, Ilya Khaykin (Partner) and Alban Pyanet (Principal in the Finance & Risk Management practice) of Oliver Wyman teamed up with instructors from various institutions to discuss the practical methods for incorporating climate risk in a financial institution's climate risks. First, the sessions covered the development of climate risks scenarios and climate stress testing with Bas van Ruijven, Senior Research Scholar with the Energy (ENE) program at IIASA. Then, after having been introduced to transition risk scenarios, participants learned how to integrate Climate-Related Risk Factors into Risk Management, in a session with Anne Margrethe Platou, Sustainability Manager at DNB Bank. The course then moved to the topic of private sector disclosure of climate-related financial risks with Mark Cornelius, Head of the Division that regulates and supervises the major life insurance groups within the UK at the Prudential Regulation Authority – part of the Bank of England.
On the last day, participants focused on a global perspective on sustainable finance by Mitch Carpen, Head of Risk Management and Compliance at the Green Climate Fund, and participated in a group activity on the role of central banks, supervisors and other actors in greening the financial system. The course was closed by a lunch speech by Francesca Gostinelli, Head of Group Strategy at ENEL Spa.