2019 Annual Conference of the Florence School of Banking and Finance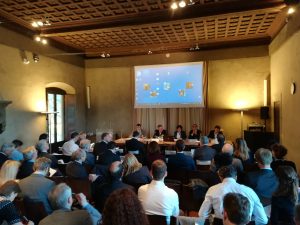 The 2019 edition of the Annual Conference of the Florence School of Banking and Finance took place on the 25th of April 2019, in Villa Schifanoia, home of the Robert Schuman Centre for Advanced Studies of the European University Institute.
Following an established tradition, the event gathered in Florence senior academics, policy-makers and private practitioners to shed a light on the internal and external disruptions that are currently putting Europe's financial system under stress, discussing the possible ways forward to address these challenges.
The conference was opened by FBF Scientific Director Elena Carletti, who led a discussion on extra-territoriality and financial infrastructure featuring James Freis (Deutsche Börse), Peter Grasmann (European Commission), Klaus Löber (European Central Bank) and Nicolas Véron (Peterson Institute for International Economics). Looking back at the recent history both in Europe and outside, the panel focused on the biggest challenges for payment systems, how different countries are exploiting their extra-territorial power, and the perspective for the European Union and the Euro currency in this panorama.
The topic of collective action clauses in the sovereign debt restructuring framework was tackled in the second session, chaired and moderated by Mitu Gulati (Duke University). Identifying the possible approaches that could mitigate the costs of sovereign debt crises without raising sovereign yields, or exacerbating liquidity risk in the short run, the speakers concentrated their interventions on an assessment of current CACs in Europe, their impact on regulatory arbitrage and the possible options for Eurozone authorities and European sovereigns. The panel featured contributions by Aitor Erce (European Stability Mechanism), Giampaolo Galli (Observatory on the Italian Public Accounts, Catholic University of Milan), Anna Gelpern (Peterson Institute for International Economics and Georgetown University), and Yannis Manuelides (Allen & Overy LLP). Some days after the panel, Professor Gulati wrote some thoughts of the discussion in a blog post on Credit Slips – Do the Euro CACs Have to be Used if There is a Need to Restructure a Euro Area Sovereign's Debt? Click here to read it.
Finally, panel discussions were concluded by a session focused on the European Safe Asset, chaired and moderated by Jeromin Zettelmeyer (Peterson Institute for International Economics), which featured as speakers Gabriele Giudice (European Commission), Daniel Gros (Centre for European Policy Studies), Michala Marcussen (Sociéte Générale), Marco Pagano (University of Naples Federico II). The panel highlighted the economic rationale for having a safe asset for the euro area, discussing its possible form – from a euro denominated debt issued by the EU budget or some kind of euro area fiscal authority, backed by a stream of revenue, to the most relevant alternatives advanced in the current debate, such as e-bonds or purple bonds.
Panel discussions were complemented by two inspiring speeches, which fueled debates among speakers and conference participants also during the social moments: a keynote speech by sovereign debt expert Lee Buchheit (Honorary Professor, University of Edinburgh), chaired by Richard Portes (London Business School), and a dinner speech by Vítor Constâncio (Former Vice President of the European Central Bank, President of the Council of the Lisbon School of Economics & Management, University of Lisbon), who advocated for inclusion in the monetary union's infrastructures of a stabilization function, that would treat the single monetary territory as a single economic space that requires an adequate macro policy mix, a full functioning banking union and a deeply integrated capital market.