Welcome to our 1000th participant!
We are proud to announce that this week we will welcome our 1000th training course participant in the occasion of the Autumn School on 'The Law, Economics and Practice of EU Banking Resolution'. Since the Florence School of Banking and Finance was established officially in January 2016, over 1000 people have participated in its training activities, including:
19 residential courses, which took place mostly at the School's premises in Florence but also in Amsterdam (University of Amsterdam) and Frankfurt (Goethe University).
6 online courses, designed in cooperation with the European Banking Authority, taking place on our online training platform.
5 in-house courses,  organised at the premises of EU institutions such as the European Commission (DG FISMA) and the European Court of Auditors
In addition to its training activities, the Florence School of Banking and Finance has helped to give visibility to institutional speakers, policy makers, academics and practitioners over the course of policy dialogue activities such as the online seminars, policy events, and the annual conference. Participants came from over 70 different institutions representing mostly Europe but also other countries, notably from Asia (Korea, Japan, Indonesia), South Africa, Mexico and the United States.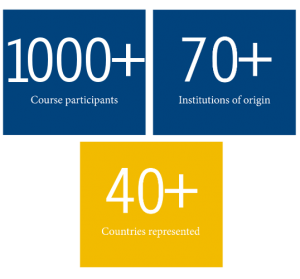 The Florence School of Banking and Finance aims to increase these number even further, by expanding its activities both in terms of numbers and variety. The full calendar of the residential courses in the first semester of 2018 is now out.