Training course on Anti Money Laundering
In cooperation with Oliver Wyman, the Florence School of Banking and Finance organised on 29-30 January 2019 a course on the topic of anti-money laundering (AML).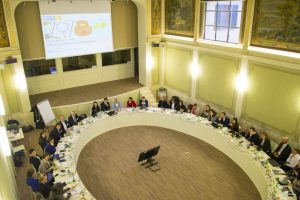 This fully-booked, intermediate-level course gathered in Florence senior professionals in the financial services industry, representatives of supervisory authorities, and academics, to discuss the evolution of AML supervision, risk assessment methods and the appropriate governance for effective and comprehensive control processes. During the course, which was held under the Chatham House rule, participants actively contribute to the exchanges and discussions, bringing into the discussion their own specialist area of competence and unique perspectives.
The course was structured as a two-day classroom training with eight modules of varying format. After an initial opening by course co-director Andrea Federico, Partner at Oliver Wyman, and Pierre Schlosser, Scientific Coordinator of the Florence School of Banking and Finance, the first sessions were concentrated on framing the key concepts of AML, highlighted also in a series of recent cases in a presentation by Anthony Charrie (Oliver Wyman) and Jonathan Overett Somnier (Head of Legal Services at the European Banking Authority). The programme then followed with a presentation and an evaluation of the risk assessment methods by Dominik Käfer (Oliver Wyman) and Oliver Hainke (Global Head of Anti Financial Crime Private & Commercial BankDeutsche Bank), before entering the details of customer risk rating and customer due diligence in a session led by Klara Jandova (Principal in Oliver Wyman's Finance & Risk practice) and Audrey Sudara-Boyer (Head of AML at ACPR Banque de France). The first day was closed by a dinner conversation with René Brülhart, Chairman of th Financial Information Authority of the Holy See and Vatican City State.
On the second day, the sessions focused on the AML transaction monitoring and SAR reporting with Graeme Jeffery (Oliver Wyman), followed then by the perspective on the firms' governance and internal control system by the regulators at the Bank of Italy and an academic's perspective on the institutional architecture of AML, both at the international level and within the Banking Union, provided by Eleni Tsingou (Professor at the Copenhagen Business School).
Finally, the course was closed by a roundtable discussion, modertated by Magda Bianco (Bank of Italy), which involved the course participants and instructors in a debate on the key current challenges for banks and supervisors, as well as on the possible future trends and evolution.