FOCUS AND ACTIVITIES OF THE SCHOOL
The Florence School of Banking & Finance is a European platform bringing together practitioners and academics from the Banking and Finance sector to develop a common culture of regulation and supervision in the European Union. It does so through policy debate and training, in close interaction with its network of leading academic institutions. The school's focus is on four substantive areas, namely, Financial Stability and Regulation, Supervision and Resolution, Risk Management and Statistical and Econometric Methods. In these critical areas, the Florence School of Banking & Finance undertakes two core activities:
1. Policy debate
High-level policy debates bring together leading experts (senior professionals and distinguished academics) to discuss financial regulation and supervision in the EU and the role of banks. These closed-door discussions, held under Chatham House Rules, offer room for open and independent dialogue. Conferences instead are organised to discuss topics with scholars and stakeholders on a broader scale.
Some events organised by the School:
Find all the past and upcoming Events
Publications
The output from the School's research activities serves to enrich debates from a multidisciplinary perspective amongst those in the sector. Among the latest publications: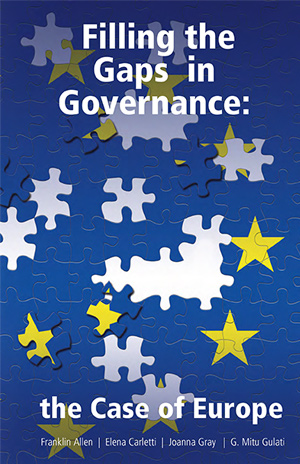 28 April 2016
Filling the Gaps in Governance: The Case of Europe
Find all publications
2. Training
The training provides a bridge between the latest academic thinking and the world of practice. It combines residential and interactive online formats.
Find all the training courses
The school also builds on the knowledge and activities of the Pierre Werner Chair on Monetary Union and the Tommaso Padoa-Schioppa Chair in European Economic and Monetary Integration.