FOCUS AND ACTIVITIES OF THE SCHOOL
Established in January 2016 as part of the Robert Schuman Centre for Advanced Studies, the Florence School of Banking & Finance is a European platform bringing together practitioners and academics from the Banking and Finance sector to develop a common culture of regulation and supervision in the European Union.
It does so through training and policy dialogue, in close interaction with its network of leading academic institutions. Together with its partners, the school helps experts and decision-makers to take informed decisions in the medium and long-term, critically accompanying the economically and socially sound functioning of the European banking sector.
The School's objectives are:
to provide a European forum for independent and critical thought and informed debate by bringing together scholars with the world of practice;
to support professionals in keeping up-to-date with European developments in this swiftly evolving field;
to provide access to academically robust and praxis-relevant knowledge from a multidisciplinary perspective.
The school's focus is on four substantive areas, namely, Statistical and Econometric Methods; Risk Management; Financial Stability and Macroprudential Policy; Regulation, Supervision and Resolution. In these critical areas, the Florence School of Banking & Finance undertakes two core activities: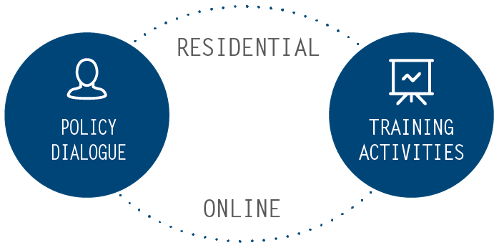 1. Policy dialogue
The Florence School of Banking and Finance hosts policy dialogue activities which aim at stirring a critical and thoughtful debate on the logic, soundness and implications of the European regulatory framework. The School's thematic emphasis lies on financial stability and macro-prudential policy on the one hand and on banking regulation, supervision and resolution on the other.
Our policy-focused activities range from closed-door executive seminars, held under the Chatham House Rule, to public conferences and online seminars. Our events are organised in cooperation with our scientific and institutional partners and involve senior practitioners, scholars and policy-makers.
READ MORE ABOUT THE POLICY DEBATE ACTIVITIES
2. Training Activities
Our training activities provide a bridge between the latest academic thinking and the world of practice on various levels, in its four substantive areas. The formats of the courses organised by the Florence School of Banking and Finance include residential courses, online training, and tailor-made courses, either at the premises of the requesting institution (in-house) or in Florence (ad-hoc).
READ MORE ABOUT THE TRAINING ACTIVITIES
TARGET AUDIENCE
The Florence School of Banking & Finance targets professionals working in the Banking & Finance sector, including bankers, national competent authorities, European institutions, the European Central Bank (ECB) and academics who are interested in the European dimension of financial regulation and supervision.
The school also builds on the knowledge and activities of the Pierre Werner Chair on Monetary Union and the Tommaso Padoa-Schioppa Chair in European Economic and Monetary Integration.
---

The European Commission supports the EUI through the European Union budget.