Tailor-made courses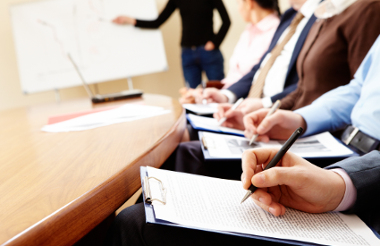 The Florence School of Banking and Finance connects regularly professionals with leading instructors in training activities organised at premises of the requesting organisation (in-house) or in dedicated events in Florence (ad-hoc).
The scientific content of the courses is built upon the outstanding academic expertise of the instructors in the FBF network, providing participants with the theoretical and practical skills to tackle the most pressing issues in the sector of banking and finance.
Our tailor-made courses fall in the four substantive areas of the FBF (Financial Stability and Regulation, Supervision and Resolution, Risk Management, Statistical and Econometric Methods) and respond to the demands of European institutions and agencies, national central banks and financial regulatory authorities, as well as organisations in the private sector.

All the details of the courses are arranged in cooperation with the requesting entities, to ensure that in-house and ad-hoc courses are perfectly tailored to their needs and necessities.
To request a tailor-made training course, please get in touch with us by filling out the request form.
Past in-house courses
FINANCIAL REGULATORY REFORMS AND SYSTEMIC RISK: A POST CRISIS ASSESSMENT
Date: 5-7 September 2018
Place: European Commission, DG FISMA
Course Instructor: Bruno M. Parigi (Course coordinator, University of Padova and CESifo) and Marcella Lucchetta (University of Venice)
Area: Bank Regulation, Supervision and Resolution
Closed in-house course
MACRO-PRUDENTIAL REGULATION AND SYSTEMIC RISK
Date: 13-15 June 2018
Place: Deutsche Bundesbank (Frankfurt, Germany)
Course Instructor: Jean Charles Rochet (University of Geneva)
Area: Bank Regulation, Supervision and Resolution
Closed in-house course
EU Banking resolution law
Date: 23-25 May, 6-8 and 20-22 June 2018
Place: Central Bank of San Marino (San Marino)
Module coordinators: Marco Lamandini (University of Bologna), David Ramos Muñoz (University Carlos III Madrid; University of Bologna), Marco Onado ( Bocconi University)
Area: Bank Regulation, Supervision and Resolution
Closed in-house course
BANKING SECTOR ECONOMICS
Date: 2-3 May 2018
Place: European Commission, DG ECFIN (Brussels, Belgium)
Course Instructor: Gianni De Nicolò (IMF and FBF)
Area: Bank Regulation, Supervision and Resolution
Closed in-house course
ESSENTIALS OF BANKING AND FINANCIAL MARKETS
Date: 5 September and 17-18 October 2017
Place: European Commission, DG FISMA (Brussels, Belgium)
Course Instructor: Gianni De Nicolò (IMF and FBF)
Area: Bank Regulation, Supervision and Resolution
Closed in-house course
RECOVERY AND RESOLUTION PROCEEDINGS UNDER BRRD AND SRMR
Date: 7 April 2017
Place: European Court of Auditors (Luxembourg)
Course Instructors: Boudewijn Berger (ABN AMRO Bank); Bart Joosen (University of Amsterdam)
Area: Bank Regulation, Supervision and Resolution
Closed in-house course
Early Warning Systems (EWS)
Date: 1 December 2016
Place: European Commission (Brussels, Belgium)
Course Instructor: Gianni De Nicolò (IMF and FBF)
Area: Bank Regulation, Supervision and Resolution
Closed in-house course
Essentials of Financial Stability
Date: 29 – 30 November 2016
Place: European Commission (Brussels, Belgium)
Course Instructor: Ferre de Graeve (KU Leuven)
Area: Financial Stability and Macroprudential policy
Closed in-house course