Reconciling risk sharing with market discipline: A constructive approach to euro area reform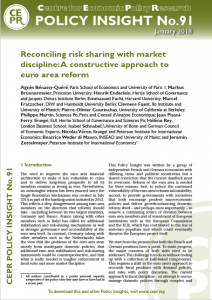 A group of independent French and German economists is suggesting a concrete plan to reform the Euro area, published today by CEPR (Center for Economic and Policy Research) as Policy Insight No.91.
The recent crisis has revealed the major shortcomings of the Euro area, particularly the weakness of its initial architecture, the strength of the member states' and citizens' commitment to its integrity, and the depth of disagreements over its reform. The authors of this paper, despite having differing views and political sensitivities, share the conviction that the current deadlock  must be overcome and call for a reform of the Euro area to reduce vulnerabilities, to provide governments with incentives that both encourage prudent macroeconomic policies and deliver growth-enhancing domestic reform, and to promote a new common culture of cooperation among Euro area members.
The Euro area is now tasked to embed the revealed collective preference for integration in institutional arrangements that are both robust and acceptable for all participating members. This requires a shift in the euro area's approach to reconcile fiscal prudence with demand policies, and rules with policy discretion. The current approach to fiscal discipline – an attempt to micromanage domestic policies through complex and often divisive fiscal rules – needs to be replaced by a combination of streamlined rules, stronger institutions, and market-based incentives, with the aim of strengthening national responsibility.
The authors, who include Jean Pisani-Ferry, holder of the Tommaso Padoa-Schioppa Chair at the EUI's Robert Schuman Centre for Advanced Studies (RSCAS) and Henrik Enderlein, currently a Visiting Fellow at the RSCAS, propose in their paper a set of reforms attempting to simultaneously improve discipline and risk sharing in the euro area:
reform of the architecture of the financial sector
reform of the fiscal architecture
reform of the institutional architecture
Reflecting the fact that crises can have both financial and fiscal causes and that disturbances in both sectors can reinforce each other, the reforms proposed focus on financial and fiscal architecture, as well as institutional reforms to make euro area surveillance and crisis management more legitimate and effective.
Market discipline and risk sharing should be viewed as complementary pillars of the euro area financial architecture, rather than as substitutes. Achieving this complementarity, however, is not easy. It calls for stabilisation and insurance mechanisms that are both effective and cannot give rise to permanent transfers. And it requires a reformed institutional framework. It is in these areas that we hope to contribute.
Comments by the authors on the central argument of this paper
The authors of the paper are:
Agnès Bénassy-Quéré, Paris School of Economics and University of Paris 1
Markus Brunnermeier, Princeton University
Henrik Enderlein, Hertie School of Governance and Jacques Delors Institute Berlin
Emmanuel Farhi, Harvard University
Marcel Fratzscher, DIW and Humboldt University Berlin
Clemens Fuest, Ifo Institute and University of Munich
Pierre-Olivier Gourinchas, University of California at Berkeley
Philippe Martin, Sciences Po, Paris and Conseil d'Analyse Économique
Jean Pisani-Ferry, EUI, Bruegel and Hertie School of Governance and Sciences Po
Hélène Rey, London Business School
Isabel Schnabel, University of Bonn and German Council of Economic Experts
Nicolas Véron, Bruegel and Peterson Institute for International Economics
Beatrice Weder di Mauro, INSEAD and University of Mainz
Jeromin Zettelmeyer, Peterson Institute for International Economics
DOWNLOAD THE PAPER