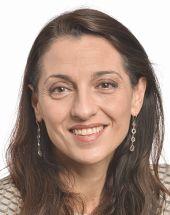 Irene Tinagli
Member of FBF Advisory Council
Chair of the Committee on Economic and Monetary Affairs
Member of the European Parliament
Biography
After a BA in Management from Bocconi University, I obtained a Fulbright Scholarship and moved to the United States where I received a Masters and PhD from Carnegie Mellon University, and where I later participated in the Global Leadership Programme at the Harvard Kennedy School of Government.
Over the years I have been a consultant for regional and national European governments, the UN and the European Commission on the topics of innovation, creativity, talent attraction and management, urban and regional development. In Italy, I have been Advisor to the Minister of Culture, the Minister of Education and the Minister of Justice.
From 2009 I have been an Assistant Professor of Management and Organizational Development at the University of Madrid. In 2013 I decided to run for office and was elected to the Italian Parliament, serving a five-year mandate dealing mostly with issues concerning labor, employment and the private sector.
In May 2019 I have been elected to the European Parliament with over 106 thousand votes, representing the North-West Constituency (Lombardia, Piemonte, Liguria e Valle d'Aosta) and becoming the most voted woman in Northern Italy.
In September 2019, I have been elected Chair of the European Parliament's Economic and Monetary Affairs Committee.
I have been a columnist for Italian newspaper La Stampa and I have published three books: Talento da Svendere (Einaudi, 2008), Un Futuro a Colori (Rizzoli, 2014) and La Grande Ignoranza (Rizzoli, 2019).
Member of the Scientific Committee of Parks – Liberi e Uguali and of the International Observatory on Migrants' Health. I have been a member of the Advisory Board of Opinno, a Young Global Leader of the World Economic Forum and of the Europe "40under40".