Online seminar – Sustainable Finance: Rationale and Building Blocks
On the 9th of October 2018, in the framework of its online seminar series, the Florence School of Banking and Finance held a public online seminar on the topic of Sustainable Finance, which in particular presented the recent Sustainable Finance Action Plan advanced by the European Commission and focused on the key building blocks to define what sustainable economic activities are.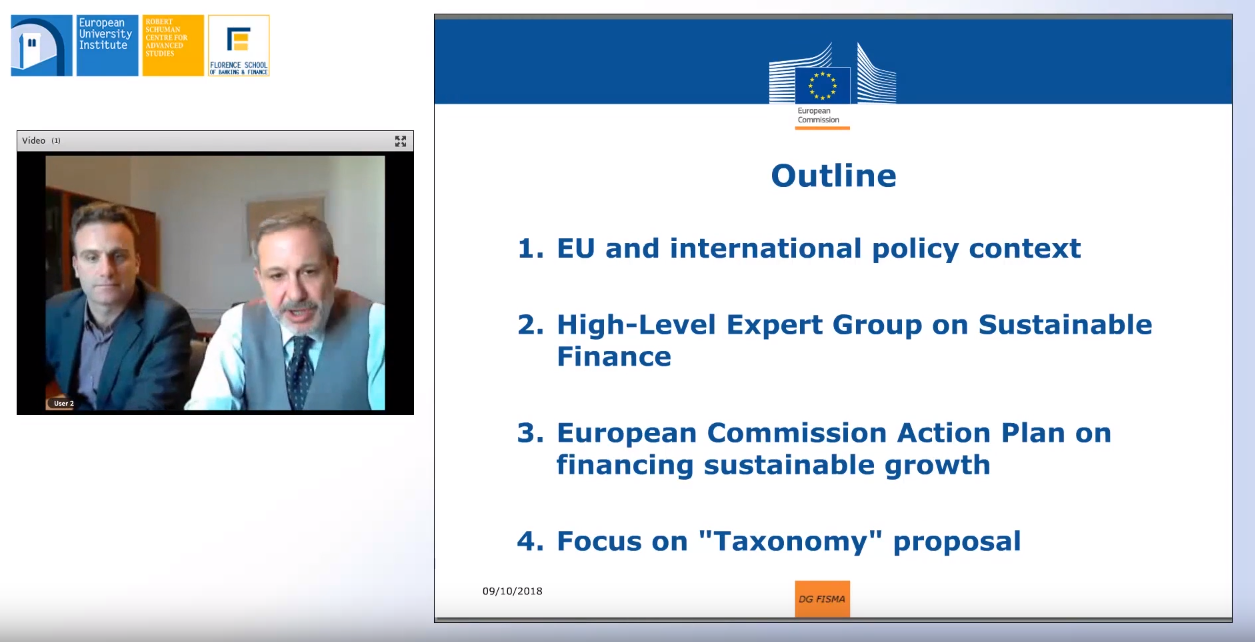 The seminar was opened by Ugo Bassi, Director of Financial Markets in the European Commission's DG FISMA who, after having provided an overview of the policy context and the definition of sustainable finance, presented the Commission's activities in this field, namely the High-Level Expert Group on sustainable finance (HLEG)) and the Action Plan on Sustainable Growth.
The seminar then focused on the content of the Action Plan, highlighting its goals and objectives and outlining the four concrete actions planned in the package presented in May 2018, namely to (1) establish an EU taxonomy of sustainable activities, (2) to incorporate sustainability in providing financial advice, (3) to develop sustainability benchmarks and to (4) Clarify institutional investors and asset managers' duties.
In the second part of the presentation, Juri Mara, Financial Economist Officer at DG FISMA presented the EU taxonomy, a harmonised classification system identifying economic activities that deliver on EU sustainability objectives, with the aim to to provide a common language on what is "green" for the purposes of finance.
To define the taxonomy, Mr. Mara outlined the technical screening criteria that the European Commission is defining for specifying "substantial contribution" and "significant harm", explaining the details of the definition process and the actors involved.
During the questions and answers sessions that followed the presentation, the numerous participants, representing 43 different nationalities, were asked to provide their feedback on two questions. The first one shown that the vast majority of the participants (80%) believe that a mixed approach is the most effective way to achieve the policy objectives as set out in the Action Plan. Mr. Bassi commented that this result shows that "the European Commission is on the right track, since the mixed approach is the one being pursued by the EC." The second question demonstrates that most of the participants think that upstream and downstream environmental impacts (43%) are the most important to develop the technical screening criteria.