Online course 'Bank Recovery Planning' finished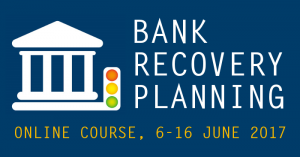 The third edition of the online course jointly developed by the European Banking Authority and the FBF came to an end on Friday, 16th of June.

This edition involved professionals from national central banks and financial authorities located in 16 European countries. Participants' profiles included several bank supervisors, supervision analysts, as well as on-site and off-site bank inspectors. Almost all the participants have less than 2 years of work experience in the topic, with the majority of them having been involved in banking supervision for less than one year.

The course lasted 10 days. The first week consisted of individual learning on the principal aspects of bank recovery evaluation and planning, including aspects related to governance, strategic and systemic positioning, the indicators used in this aspect, and the possible recovery scenarios involved. The knowledge obtained during the first week was put into practice during the second part of the course, when participants were divided in six virtual teams, working cooperatively on the assessment of a fictional bank under the supervision of EBA staff members. Team leaders had then the chance to present their groups' assessment to their fellow course members during the live closing seminar.

This course marked once more the continuation of the cooperation between the FBF and the EBA in running the two jointly developed online courses. Hosted on the FBF's online platform, the courses are offered through the EBA's training network and participation is limited to individuals from the EBA's partner institutions.

Participants' feedback on the course structure and content was positive:

The course outline combining video, reading and quizzes was very good and very efficient. The video presentations were particularly well done, with good examples.

Despite for many it was the first time to work on a collaborative project with other online course participants, the activity was welcomed by all the participants, who commented positively on the case study as wekk:

I appreciated having the opportunity to practice what we learned through a mock assessment of a recovery plan. This case study was a good exercise for our daily work. I also liked that all relevant background information was provided.

Next editions of the course are currently in planning for Autumn 2017.