Latest FBF course: Macroprudential Policy Implementation in Europe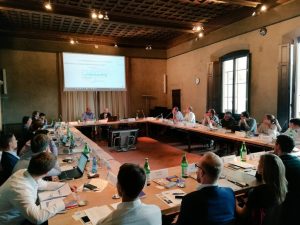 The autumn season of training courses at the Florence School of Banking and Finance progressed with the course on 'Macroprudential Policy Implementation in Europe', which took place from the 17th to the 19th of October in Florence. The course featured expert instructors from the European Systemic Risk Board (ESRB) and the European Central Bank, who, based on their expertise in the field, discussed the key objectives and instruments of macroprudential policy in the European context, describing the details of their use, and exposed participants to the lessons learned from their implementation.
The course opened with a broad overview of macroprudential policy, provided by Francesco Mazzaferro, Head of the Secretariat of the ESRB, and Tuomas Peltonen, Deputy Head of the Secretariat. The first session aimed to provide participants with a precise understanding of its ultimate objectives and the institutional framework, concentrated particularly on the European level and the ESRB. Subsequently, instructors introduced the instruments for macroprudential policy, highlighting the implementation challenges including, among others, calibration, cross-border effects, and leakages. Participants were then engaged on a practical case study, asking them to outline what instruments could have been activated in the early 2000s to reduce the build-up of the crisis and mitigate the damage caused.
The course then continued with specific sessions on capital-based instruments, such as the countercyclical capital buffer, the systemic risk buffer and their use for global-systemically important institutions (G-SIIs) and other-systemically important institutions (O-SIIs), and on liquidity instruments, introducing the concept of systemic liquidity and how to perform monitoring activities. Instructors for these sessions were Katarzyna Budnik, Principal Financial Stability Expert in the Stress Test Modelling Division at the ECB; Giovanni di Iasio, Principal Financial Stability Expert in the ECB's Market Based Finance Division; Marco Lo Duca, Principal Financial Stability Expert in the ECB Macroprudential Policy Division and Michael Wedow, Adviser at the ECB's Directorate General Macroprudential Policy and Financial Stability.
The following sessions focused on the macroprudential analysis of the real estate sector, given its importance for financial stability, and non-banking financial sectors, including the shadow banking sector, insurance, investments and central counterparties. On the last day, before concluding with an assessment of calibration, transmission, and the impact of macroprudential policy, instructors touched upon the cross-border dimension of macroprudential policy making, discussing the transmission channels and the concept of reciprocity, also outlining the ESRB recommendations in this aspect.