Latest FBF course: 'The Essentials of EU Banking Resolution'
From the 26th to the 28th of February the Florence School of Banking and Finance organised a course on 'The Essentials of EU Banking Resolution', a introductory-intermediate level training activity introducing the basics and the main attributes of preparing and executing banking resolution.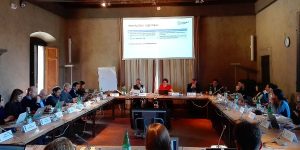 The instructors delivering the course were two experts in banking and financial law: Christos Gortsos, Professor of Public Economic Law at the Law School of the National and Kapodistrian University of Athens, and Fernand Braudel Senior Fellow at the European University Institute for the first semester of the 2017-2018 academic year, and Seraina Grünewald, Assistant Professor for Financial Market Law at the Institute of Law of the University of Zurich.
The course started with a description of the broad economic aspects of banking resolution, including the key attributes described by the Financial Stability Board (FSB) and the current and future structure of the EU regulatory framework.
Focusing on the European Union, Professor Gortsos introduced the structure of the Bank Recovery and Resolution Directive (BRRD) and the Single Resolution Mechanism (SRM), pointing to the institutional aspects of the Single Resolution Board (SRB) and the role of national resolution authorities.
At the start of the second day, professor Grünewald explained the flow of resolution planning and early intervention under the discussed framework, introducing also the concept of loss absorption standards (TLAC/MREL), while Professor Gortsos discussed the conditions for resolution, the possible resolution tools (including sale of business and the bail-in tool) as well as relations to third countries and relations with governements on specific aspects of the BRRD. The day was closed by a case study, during which participants were engaged on the basis of the recent decisions of the SRB and the cases of Banco Popular and the Venetian banks.
On the third and last day, participants were introduced to the role of state aid in resolution, including their conditions for approval and external sources of resolution financing such as deposit guarantee schemes, resolution financing arrangements and ESM funds. Finally, the course was closed by a guest lecture delivered by Kristian Kjeldsen, recently appointed as Head of Financial Stability at the Single Resolution Board, on the topic of 'Financial stability analysis in banking resolution'.