'Institutions and the Crisis' – FBF Annual Conference
The crisis has turned Europe's economic and financial governance into a patchwork of bodies, instruments and rules that are hard to disentangle. Against this background, the Florence School of Banking and Finance hosted on the 26th of April 2018 its Annual Conference, with the aim to critically analyse, review and debate the most salient elements and gaps of Europe's post-crisis institutional architecture.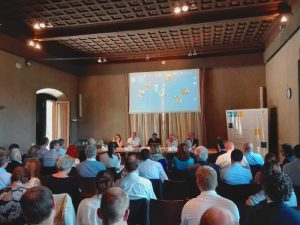 This event follows in the tradition, established in 2011, to gather yearly in Florence leading economists, lawyers, political scientists and policy makers to discuss the economic situation in Europe in the light of the most pressing policy priorities, challenges and future prospects. This year's conference was organised in cooperation with the Brevan Howard Centre at Imperial College and the BAFFI CAREFIN Centre at Bocconi University, with the kind support of the European Investment Bank Institute.
The conference was opened by a look back at the way European Institutions managed the financial crisis, identifying the main lessons learned from the EU crisis management from both a research and public policy perspective. Discussions in the panel evaluated the European crisis management, going beyond the established view that Europe did 'too little too late', and reflected on the capacity of European institutions and instruments to manage the interdependencies stemming from a common currency.
The second panel discussed the role of the various European courts in tackling the recent financial crisis, particularly looking into if courts can be regarded as institutions when looking at their behaviors during and immediately after the crisis. Speakers discussed whether courts are likely to be effective enforcement mechanisms for the new fiscal rules and assessed how judicial control interfered with crisis decisions.
The final panel discussion was focused on the Eurozone's future institutional prospects, looking at the crucial reform steps necessary to make the EMU and the euro sustainable and "future-proof", discussing the existence of possible alternatives for ensuring the stability of the Euro, as well as addressing the difficult balance between risk-reduction and risk-sharing measures that Europe must find in the current populist context, in the light of the European reform progress.
The definition of the content and the scientific organisation of the event was handled by leading professors Franklin Allen (Brevan Howard Centre Imperial College), Elena Carletti (BAFFI CAREFIN Bocconi University and European University Institute), and Mitu Gulati (Duke University). The full line up of speakers and selected individual presentation can be found at the website of the 2018 Annual Conference.