In-house course at the Central Bank of San Marino
The Florence School of Banking and Finance has organised a in-house course at the Central Bank of the Republic of San Marino, covering the topics of European banking resolution law, the architecture of the Single Supervisory Mechanism (SSM) and the underlying economic factors.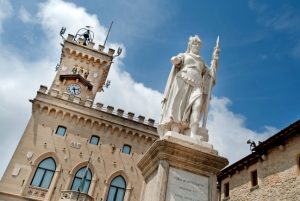 The first block of the course was held on 23-25 May. Coordinated by Professor Marco Lamandini from the University of Bologna, the course was opened by an overview of EU prudential regulation, the evolution of the Basel principles, the Capital Requirements Regulation (CRR) and the Capital Requirements Directive (CRD IV), then moved towards an in-depth discussion on the structure and principles of the Single Supervisory Mechanism and the legal implications, including a session dedicated to the jurisprudence of the European Court of Justice.
The second block started today and will last until the 8th of June. The programme of this module has been shaped by Professor David Ramos Muñoz from the University Carlos III in Madrid and the University of Bologna. This session started with a presentation of the new European resolution regime, including the Bank Recovery and Resolution Directive (BRRD) and the Single Resolution Mechanism. Then, instructors tackled on the full process of banking resolution resolution, addressing aspects related to the planning, the preliminary actions, the instruments and their limits (including a session dedicated to Bail-in) and finally the execution of a resolution plan.
Throughout this module, instructors will devote a particular attention to real-life examples, including the cases of Banco Popular, Italian banks (Monte dei Paschi Siena, Banca Popolare di Vicenza, Veneto Banca) and Banco Espirito Santo, as well as legal cases related to the matter. Additionally, the participants will be engaged in a case-study based on the development of a fictitious resolution plan. Assuming the roles of lawyers working for different institutions (private sector bank, supervisory authorities, resolution authorities) participants will apply the theoretical framework in all the aspects of the resolution process.
The course will be completed by a third module, focused on the economic aspects of banking resolution, that will be held on 20-22 June.