First residential course of the year, on the basics of Financial Stability and Regulation, closed today
The first residential training course of 2018 organised by the Florence School of Banking and Finance, 'Financial Stability and Regulation: Basic Concepts and Applications', was held on 12 and 13 February 2018.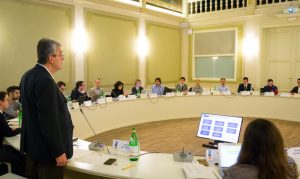 This course is taught by Gianni De Nicolò, who recently took over the position of part-time professor at the EUI's Robert Schuman Centre for Advanced Studies, where he is working on training activities with the Florence School of Banking and Finance. Professor De Nicolò is currently based in the US, working in the IMF Institute for Capacity Development, where he delivers courses in Macroeconomics, Econometrics, Finance and Banking for government officials. Before joining the IMF, he was Lecturer at the University of Rome I and Assistant Professor at Brandeis University, after having received his Ph.D. in Economics from the University of Minnesota. His research includes theoretical models of banking with empirical applications, banking regulation, and macroeconomic and financial modeling of systemic risks.
The course which closed today was conceived to be open to non-economist, providing the basics to understand the key sources of risks in the baking system, as well as methods for measuring them and the rationale and practice of key bank regulations. Additionally, the course focused on developing practical skills in assessing the stability of the banking system for use in policy analysis: this was done through conducting collective exercises on specific case studies.
The goal of the course was to offer an overview of bank risks and banking stability, explaining how to identify the links between sources of risk to the macroeconomic and financial environment in a certain country. The sessions were focus on explaining how to understanding bank vulnerabilities by analyzing measures of financial risks, financial soundness indicators, stress testing methodologies, and on providing an overview of the key elements of the current bank regulatory framework.
The course was attended by numerous participants representing several institutions, such as the European Central Bank, represented by numerous participants, national central banks, including the National Bank of Belgium, the Bank of England and the Bank of Italy, and financial supervisory authorities including Finansinspektionen, Sweden's financial supervisory authority, and the Financial Stability Authority of Finland. Finally, the course was also attended by lawyers in private practice and academics from universities such as the European University Institute in Florence and Sejong University in South Korea.