Finished today: 'Early Warning Systems' course in Frankfurt
This afternoon, the course 'Early Warning Systems' by the Florence School of Banking and Finance has come to an end. This two-day residential training course was hosted by the Goethe University in Frankfurt, at the University's Westend Campus.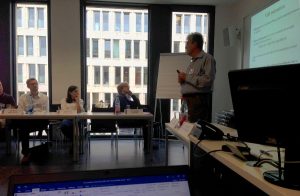 The course, taking place at an intermediate to advanced level, aimed to introduces the foundations of Early Warning Systems (EWS) for systemic risk. The programme of this course has been developed with a hands-on approach in mind: after two initial sessions reviewing the principles and scientific literature on the foundations of EWS and VaR-type approaches, the course provided illustrations of EWS examples through workshops performed with STATA software, including VaR-type approaches, application of analysis measures to predict currency, banking and sovereign debt crises, and constructing country ratings for tail risk. The second course day featured a session on networks, connectedness, and risk interdependences.
The instructors leading the theoretic sessions and the modules were conducted by Gianni De Nicolò, Programme Associate at the Florence School of Banking and Finance and Senior Economist in the Research Department of the International Monetary Fund, and Fabio Canova, Head of Training at the Florence School of Banking and Finance and Professor of Macroeconometrics at BI Norvegian Business School.
The course was closed by Manfred Kremer, Deputy Head of the Financial Research Division at the European Central Bank, who focused in his talk on the CISS indicator and particularly on its construction and applications.
The course was attended by participants coming from different European countries and from the world of European institutions (European Central Bank, European Stability Mechanism), national central banks(including among others, for example, the Bundesbank and the Bank of Portugal) and representatives from academia and the private sector. Work positions held by the participants range from economist and analyst to credit risk officer and bank supervisor.
The next residential training course by the Florence School of Banking and Finance will take place in one month's time in Florence, where professor Jean Charles Rochet will cover Bank Regulation and Systemic Risk. Registration for the course is open until the 18th of September, although limited places are available.