FBF Training course on 'Credit and Market Risk Management'
Today, the adequacy of management and governance of credit and market risks has become a necessity, as a consequence of the shift of the banking world from an overriding concern for growth to a preoccupation with long-term value creation and risk control.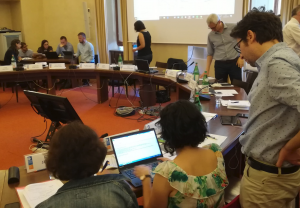 The latest course by the Florence School of Banking and Finance before the summer took place on 28-29 June 2018 and was entitled 'Credit and Market Risk Management: A Value-Based Approach'.
The course was taught by Jean Dermine, Professor of Banking and Finance at INSEAD's Asia Campus in Singapore and director of the INSEAD Strategic Management in Banking and Risk Management in Banking senior executive programs, an expert of long-term value creation and risk control, Fintech, asset & liability management (ALM), bank valuation, Final Basel III (Basel 4) regulations, advanced fund transfer pricing, credit risk and loan-loss provisioning, and pitfalls inherent in RAROC-type methodologies.
Over the two course days, Professor Dermine focused on an holistic view on risk control and governance, anchored in a value-based management framework as opposed to focusing solely on statistical modeling. This approach facilitated tackling a comprehensive view of, among others, economic capital allocation and loan pricing, credit risk diverification, provisionin on non-performing loans, securitization, the control of market risk (including Value-at-Risk and expected shortfall), and risk portfolio diversification.
The techniques taught in the course were relevant for bankers accountable for the results of a profit center, working in risk management, bank strategy, ALM or financial control, as well as for bank auditors and for bank supervisors in charge of assessing the adequacy of risk management systems. This public was well represented in the diversity among institutions participating in the training course.
In all course modules, after having been presented the theoretical framework, participants were engaged via group exercises, during which they had to apply the theory on practical cases based on real data sets.