FBF at The State of the Union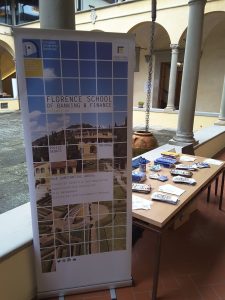 The Florence School of Banking and Finance was present last week at the international, high-level conference The State of the Union 2017, the annual event for debating the future of Europe organised by the European University Institute.
The event attracted over 1000 delegates and 200 members of the press over two intense days of academic sessions in Florence.
The first day was held at the Badia Fiesolana, the main building of the EUI, and was opened officially by Pietro Grasso, President of the Italian Senate. Throughout the day several panel discussions were arranged, on topics including populism and democracy, privacy and surveillance, citizenship, the refugee emergency, the role of institutions, and economic and monetary integration.
The second day the event moved to Palazzo Vecchio, Florence's historical city hall, where several high-profile EU officials gathered to discuss the current challenges for Europe, including Angelino Alfano, Italian foreign Minister; Antonio Tajani, President of the European Parliament; Jean-Claude Juncker, President of the European Commission; Tibor Navracsics, EU Commissioner for Education, Culture, Youth and Sport; Werner Hoyer, President of the European Investment Bank; Michel Barnier, EU's chief Brexit negotiator; Věra Jourová, EU Commissioner for Justice, Consumers and Gender Equality; Federica Mogherini, High Representative of the European Union for Foreign Affairs and Security Policy; Sandro Gozi, Italian Secretary of State for European Affairs; Ann Linde, Swedish Minister for EU Affairs and Trade; and Kersti Kaljulaid, President of Estonia. The event was closed by Paolo Gentiloni, Prime Minister of Italy.
The Florence School of Banking and Finance was present at the event in both locations, showcasing the School and its activities to a public of EU officials, members of Italian and other national institutions, policy makers and academics.
Further information regarding the event, including the video of the sessions, speeches, press releases and the photo gallery can be found on The State of the Union website.