Course on Liquidity Regulation completed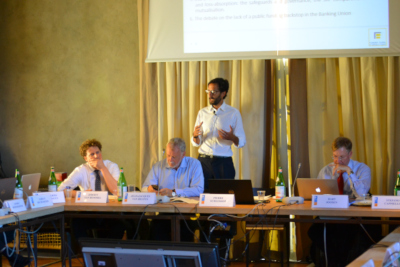 The latest FBF's executive training course, on Liquidity Regulation, took place on 27 and 28 September 2018. This fully-booked course focused on the legal and regulatory aspects of the new framework for banks regarding liquidity management and reporting, touching upon concepts as the LCR and the NSFR in the European Capital Requirements regulation framework, high quality liquid assets and safe assets, stress testing, Internal liquidity adequacy assessment (ILAAP) and the importance of liquidity constraints for the definition of 'failing or likely to fail'.
The course was directed by Bart Joosen, a private practice lawyer in the field of financial services supervision and professor of Financial Supervision Law at VU Amsterdam, who opened the course with an overview of the Basel III framework for liquidity monitoring and qualitative and quantitative liquidity management. The second session featured a lecture on private banks' perspective on liquidity management, particularly with respect to risk management, by Jean Jacques van Helten, visiting fellow at the EUI's Robert Schuman Centre for Advanced Studies and formerly Chief Risk Officer, Europe for the Bank of Montreal (BMO). The first day was then closed by a session on LCR and NSFR regulations, as defined in European Law, and a practical case study during which participants were asked to classify hypothetical securitisation products and covered bonds as high quality liquid assets.
During the second day, participants were first introduced to the role of collateral, repos and interbank lending in the context of liquidity management, then were engaged in an in-depth analysis of the Internal Liquidity Assessment Process in two presentations by Jeroen van Bommel, Principal Banking Supervisor at the European Central Bank. Finally, the course was closed by Stefano Cappiello, Deputy Director of the Florence School of Banking and Finance, who addressed liquidity management in the context of bank recovery and resolution.
The audience consisted of participants from different EU organisations, for the vast majority in the public sector (over 90% of them). Overall, they appreciated particularly the balanced level of the content presented in the course, as well as the balanced difficulty. A participant, who wishes to remain anonymous, commented: 'The course was of very high quality. The group exercises of the interactive sessions were also very useful'.