Course: Managing and Understanding Sovereign Debt Risks and Restructuring
Our latest residential course, 'Managing and Understanding Sovereign Debt Risks and Restructuring', closed on the 25th of April. This two-days, fully-booked course aimed at providing participants with an understanding of the risks in sovereign debt, particularly those risks relating to sovereign default and restructuring.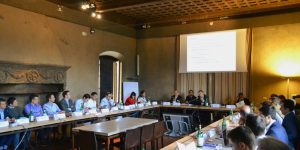 The course was structured around the full life cycle of a default, with an emphasis on identifying the different stages of a crisis and making predictions regarding how the crisis would play out. The course opened with a brief history of international finance and the basic traits of sovereign debt crises, as well as possible ways to solve them, either by adjusting to its existence or restructuring the debt. Then, instructors provided the pros and cons of pre-emptive debt restructurings, highlighting the factors influencing the choice of a debt restructuring method, including creditor consultation and coordination in the Paris and London clubs. The ways to encourage creditor participation in the sovereign debt workouts were then addressed, through a discussion that centered on the holdout creditor problem, the possible contractual tools to deter holdouts, as well as financial/legal inducements and negative inducements. Additionally, the possible ways to deal with holdouts and the proposals to reform the machinery of sovereign debt workouts were also addressed.
Finally, instructors discussed with the participants three case studies, namely the recent case of Greece in 2010-2012, the euro-area debt crisis of 2010-2015, and a fictional scenario in which participants were asked to restructure the debt of a hypothetical country.
The instructors for this course were three world-class experts in the field of sovereign debt restructuring, who have been involved in either the design of or research on every major sovereign debt restructuring over the past two decades: Lee Buchheit, Senior Partner at the law firm Cleary Gottlieb Steen and Hamilton in New York; Mitu Gulati, Professor of Law at Duke University; and Jeromin Zettelmeyer, former Director General of Economic Affairs of Germany, currently Senior Fellow at the Peterson Institute of International Economics.
The course featured also a guest lecture by Georg Vanberg, Professor and Chair of the Department of Political Science at Duke University, who discussed the relationship between sovereign debt and national constitutions.