Course completed – Understanding the SREP
On 5-6 April, the Florence School of Banking and Finance held a course on 'Understanding the Supervisory Review and Evaluation Process', focused particularly on the components of the European SREP framework ad the guidelines published in 2014 by the European Banking Authority and updated in early 2018.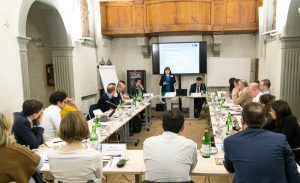 The key purpose of the Supervisory Review and Evaluation Process (SREP) is to ensure that institutions have adequate arrangements, strategies, processes and mechanisms to ensure a sound management and coverage of risks, to which they are or might be exposed as well as well as capital and liquidity to ensure that such risks are adequately covered.
The SREP, which is applied in practice through supervisory assessment, aims to deliver a comprehensive view on the risk profile, risk management and controls, business model, governance arrangements and adequacy of capital and liquidity resources of a financial institution.
This course was instructed by EBA personnel, closely involved in the preparation of the guidelines for the SREP since the early stages: Slavka Eley, Head of the Supervisory Convergence Unit, and Oleg Shmeljov, Bank Expert in the EBA's Oversight Department.
In addition to discussing the key elements of the SREP framework, instructors discussed elements such as the impact of FinTech on banks' business models and conducted a group exercise on the assessment of capital adequacy, during which participants were asked to calculate the capital requirements of a fictional bank in accordance with the rules and regulations.
Finally, the course was closed by a guest lecture delivered by Deniz Igan, Deputy Chief in the Research Department's Macro-Financial Division at the International Monetary Fund, who provided a snapshot of the reactions of the markets to supervisory stress testing.