Fully booked course on 'Credit and Macroeconomy' completed today
The latest course in the financial Stability and macroprudential policy substantive area, 'Credit and the Macroeconomy: Leverage Cycles, Asset Prices and Crisis', was completed today in Florence. Spanning over of two full days, April 19th and 20th, this residential training course provided the participants with the theoretical knowledge and practical tools to analyse the role of leverage and asset prices for macroeconomic outcomes.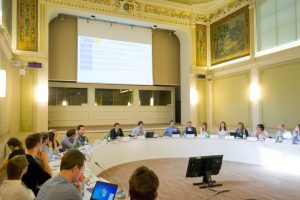 The course was taught by Moritz Schularick, Professor of Economics and Economic History at the University of Bonn and a Research Fellow of the Centre for Economic Policy Research (CEPR) and the CESifo Research Network, whose work at the intersection of macroeconomics, international economics and economic history has been widely published.
After an introduction by Pierre Schlosser, Scientific Coordinator of the FBF, the course started by a discussion on leverage cycles and its impact on macroeconomy, including considerations on interest rates, asset prices and credit growth. Then, the instructor discussed financial instability, focusing on its concepts and causes and touching upon household debt booms and financial fragility.
The second and the third part of the course were build to be interactive and "hands-on", with practical exercises during which participants used the local projections method to estimate crisis prediction models and to study the effects of monetary and macro-prudential policies in taming credit cycles.
In particular, participants were given an in-depth overview on how different economic indicators perform in crisis prediction models, and what role bank capital ratio and liquidity ratios play for financial stability. The instructor closed the course with an assessment of how the policies discussed affect the real economy.
The course, fully booked, hosted in the historical Teatro room at the European University Institute participants from about 30 different organisations, mostly institutions based in continental Europe but including also representatives from Iceland and Indonesia, as well as from the academia and consultancy worlds.
Participants praised particularly the explanation by Professor Schularick, as well as the balance in the course's levels of difficulty and the amount of material covered.
I found the course to be both practical and interesting. It touched upon many issues that I was aware of but not well versed in, and took me from reading on those subjects to applying the methods and estimating the relevant models. I was happy with the course.
Participant in the course 'Credit and the Macroeconomy: Leverage Cycles, Asset Prices and Crisis', April 2018