Completed today: course on 'Bank Regulation and Systemic Risk'
Jean-Charles Rochet closed this afternoon the course 'Bank Regulation and Systemic Risk' with a proposed doctrine for prudential regulation, after having outlined what should be the objectives pursued, how tasks should be allocated and which instruments it should exploit.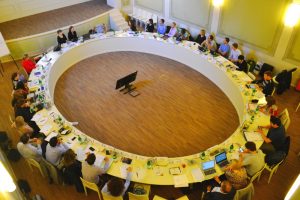 During the three days of the course, Professor Rochet presented the principles guiding prudential regulation of banks, with the aim to reduce systemic risk and protect the sector from crises. The programme included topics as, among others, credit cycles, bank runs, the lender of last resort, capital injections, SIFIs and the too-big-to-fail problem.
Participants, which included representatives from the central banking sector, EU institutions, private sector and academics from 15 countries in three different continents, were offered the possibility to share practices, methods and approaches in presenting how the principles are applied concretely in their institutions.
This course is part of the training courses offered by the Florence School of Banking and Finance in the field of financial stability and macroprudential policy, instructed by world-class practitioners and academics. Jean-Charles Rochet is an internationally renown expert with extensive academic experience, acquired in teaching positions in different universities all over the world, including the University of Zurich, LSE and Toulouse, and having authored seven books and over 60 articles in his career.