Course 'Bank Regulation for Supervisory Purposes'
Today the Florence School of Banking and finance completed its latest residential training course, 'Bank Regulation for Supervisory Purposes'.
The aim of the course was to provide participants with an overview of the micro-prudential framework (Pillar I and II) and to guide them through the new accounting rules on financial instruments and fair value measurement.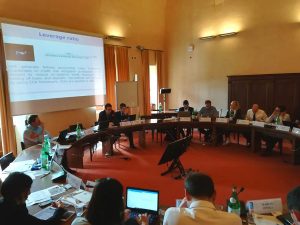 This course was designed by two experts from the Bank of Italy: Emiliano Sabatini, adviser on micro-prudential supervision, attending regularly in his capacity Basel groups on credit risk and leverage ratio, and Antonio Schifino, adviser on micro-prudential supervision and accounting regulation and actively involved in the work of the international fora dealing with these topics, including being a member of the working groups on regulatory capital, regulatory consolidation and expected credit losses at the level of the Basel Committee.
Sessions started with an overview of the IFRS 10 standards and the consolidated financial statements, as well as methods of prudential consolidation according to art. 18 of the Capital Requirements Regulation (CRR) and the guidelines published by the Basel Committee on Banking Supervision on the identification and measurement of step-in risk. Then, instructors discussed first banks' own funds and buffers before moving to the vast topic of credit risk, elaborating in particular on the standardized methods, internal models, credit risk management systems and securitization.
The second day, instructors concentrated on IFRS 9, assessing the details of the newest standards and the current and future role of the regulators. Finally, the course was closed by touching upon topics as backstop measures, liquidity risks and Pillar II requirements.
Particular attention was dedicated to the main measures put in place by the micro-prudential regulators to address the deficiencies identified during the crisis. In this context, the course offered a snapshot of the key features of the December 2017 Basel document to finalize the so called "post crises reforms".