Completed today – Autumn School on Banking Resolution
This morning marks the conclusion of the Autumn School by the Florence School of Banking and Finance, the first training activity co-organised with the School of Transnational Governance recently established at the EUI.
Discussing in-depth the topic of 'The Law, Economics and Practice of EU Banking Resolution', this course had the goal to foster knowledge on the current EU banking resolution and regulatory framework, and particularly to learn how to design and implement recovery and resolution plans which are credible and efficient. The course was ideated by the Florence School of Banking and Finance and directed by Bart Joosen,  Professor of Financial Supervision Law at VU University in Amsterdam and a private-practice lawyer. Instructors from academia, institutions and the private sector covered various topics in an extensive programme: Boudewijn Berger (ABN AMRO) discussed recovery planning, providing an overview of how plans are managed in a major private bank; Stefano Cappiello (SRB) and Emiliano Tornese (DG Fisma, EC) talked about resolution financing and the resolution process in practice; Andrea Resti (Bocconi University) lectured about valuation and liabilities; Tobias Tröger (Goethe University, Frankfurt) discussed resolution planning, focusing particularly on the details of MREL requirements and calibration.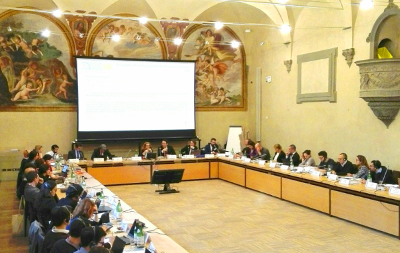 Every course day started with individual seminars by the course instructors, who were aided in their activities by teaching assistants Agnieszka Smolenska, Researcher at the European University Institute and Project associate at the FBF, and Pierre Schlosser, Scientific coordinator of the FBF. At the end of each day, participants were encouraged to take part in interactive sessions featuring practical exercises, which spanned from the conceptual definition of a recovery plan, with a  specific attention on what are the most important aspects to keep in mind when outlining the plan, to a collective assessment of resolution plans in action and an exercise on the calculation of the Maximum Distributed Amount.
Finally, the course was closed by a group activity on a case study, during which participants were guided through all the steps of the resolution process of a  fictional bank, including planning and policy option, as well as defining the MREL (Minimum Requirement for own funds and Eligible Liabilities) requisites.
This executive training course was attended by a wide group of professionals and academics, highly trained (67% of them had a Master's Degree, 13% a doctoral degree), particularly in the field of economics (46%), law (43%) and business  (7%). Participants appreciated particularly the practical side of the course, praising its collective exercises and the case studies.