Completed: course on Smart Data Analytics for Banking and Finance
The last residential training course by the Florence School of Banking and Finance focused on Smart Data Analytics, highlighting in particular the theoretical framework and the methodological skills that are most relevant in the field of banking and finance.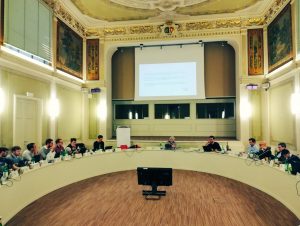 Data are everywhere and the ubiquitous availability of huge amounts of data makes it necessary to develop analytical methods and tools, with the ultimate goal to transform unstructured 'darl data' to 'smart data'. Out of the plethora of tools that are available for many scientific disciplines, this course focused on several data analysis methods, such as – among others – Latent Dirichlet Analysis, Dynamic Topic Modeling, Tail Event Driven Asset Allocation, Dynamic Tail Event Curves, as well as Machine learning and deep learning.
The course featured several practical applications of the methods illustrated, presented in the Python programming language.
The instructor in this course has been Professor Wolfgang Karl Härdle a specialist in semi-parametric and non-parametric estimation methods. He is a Professor at the Faculty of Economic Sciences at the Humboldt University of Berlin. In addition to being also the founder of the company MD * Tech, which developed and distributed the statistical software, he is Director of the international DFG Research Training Group on "High Dimensional Non Stationary Time Series", created in 2013, and has worked in leading roles in several Collaborative Research Centers of the Deutsche Forschungsgemeinschaft.